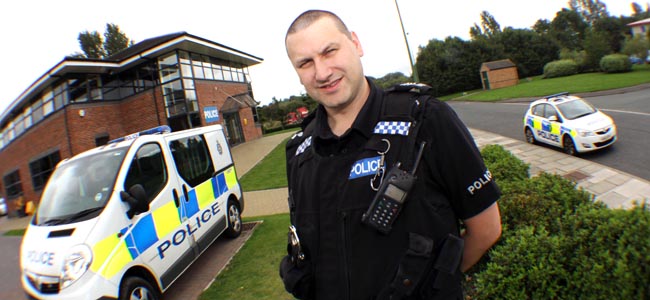 Newton Aycliffe Neighbourhood Police Team Sergeant Mark Edwards brings us his latest blog…
Hello all,
It's been a while since the last blog so you're no doubt foaming at the mouth for the next instalment… so here it is!
Tackling Volume Crime through Community Engagement continues to be the team's mission statement.
As I've mentioned in the past, the Neighbourhood Team are always experimenting with new ways in which we can reach out to our communities and spread the word of what we're doing and what issues are impacting upon the area – the very blog you're reading right now is one such way in which we hope to achieve this.
Of late, however, the Team have turned their hands to amateur film-making and you may have seen from our various Twitter feeds little videos doing the rounds.
Amongst the highlights is a 15/16 second spoof video done in the style of a cheesy TV Cop show, and a promotional piece introducing the Force's #respectyourstreet campaign.
If you've not had the pleasure why not check out YouTube and search for Aycliffe FiveO, see what treasures appear!
On the subject of Twitter, there are now several accounts up and running from various members of the team.
First and foremost there's @Aycliffe_FiveO which gives an insight into local Policing from my perspective, @TheNoblePCSO, @PCSO_SCOTT, and @PCSOHutchinson which give you the perspective from the ground of the Team's PCSO's, @InspHallspeaks which is our Inspector's account and which gives the added bonus of updates from the Shildon and Sedgefield areas (which make up the Newton Aycliffe Sector Policing area) and finally we have @AycliffeNPT (although the latter tends to take a back seat these days owing to these other feeds).
I'm planning to do a 'Shift with the Sarge' very soon which I intend to be a day of live tweeting to chronicle a 'day in the life of' as it happens from my viewpoint.
Moving onto local issues now…
We've had a crime rise lately, predominantly in the Woodham area, that has seen property stolen from vehicles and houses broken into.
We had a number of crimes in particular reported between the 29th June and 1st July.
A Citroen was entered on High Green during the early hours of the 30th where a garage fob was stolen – no entry had been made into the garage itself thankfully.
Around the same time a blue Vauxhall Vectra was stolen from the driveway of an address in Haslewood Road – it was subsequently found abandoned in the New Shildon area.
Two Aycliffe males – aged 18 and 19 years respectively, have been arrested on suspicion of been involved and are currently on bail subject to further enquiries.
An iPodNano 6th Generation was stolen from a BMW at another property on Haslewood Road – also overnight 29th/30th June.
It has to be noted however that we are still seeing vehicle owners leaving their cars/vans etc unlocked.
This has to stop if we want to reduce crime. Every time you leave your vehicle unlocked you are making the criminals job easier.
I'm not deluded into believing that if everyone locked their cars then we'd have no crime and we all know that some crooks will cause damage or force entry into vehicles, however we can't make it easy for them.
We all need to think vehicle security because if you don't then your insurance company might and you might run into difficulty when making future claims (in the unfortunate event your car is entered and property taken as a result).
Court results now…
Ashlee Dunning, 26, from Newton Aycliffe appeared at Newton Aycliffe Magistrates Court on 3rd July charged with two counts of criminal damage to properties, with a further three offences asked to be taken into consideration. She was made subject of a community order and ordered to pay a total amount of £365.00 compensation.
John James Conlin, 35, from the Stockton-On-Tees area, appeared at Aycliffe Magistrates Court after having been charged with theft of eight computer games from Tesco and a further theft from Tesco in Bishop Auckland. He was committed to prison for four weeks.
That's probably enough for now to keep you going.
Be good!
Mark J Edwards
Aycliffe NPT Sergeant