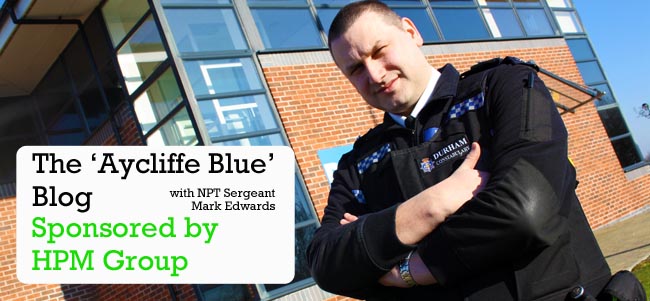 NPT Sergeant Mark Edwards continues his regular blog on Aycliffe Today…
As we move into the middle of April there continues to be changes within the team.
We now have a new officer working on the team – PCSO Michael Hutchinson has taken over on Greenfields and Middridge and is fully embracing his role. Now two weeks in, it already feels like he's been here for some time!
Here on the team we receive complaints regarding community issues from a variety of sources – some are reported direct to our Control Room, some come direct into the office, some via our social media sites, and so forth.
I would strongly encourage residents to come along to the PACT meetings we hold in every area – these are ideal forums and opportunities for members of the community to tell representatives from the Neighbourhood Police Team and our partner agencies about those things that you feel impact upon the quality of life in the community.
Priorities can then be set which we are held to account for. PACT stands for Police And Communities Together and you can check out our website for further details www.durham.police.uk
I would strongly recommend that you do not use social media to report matters of concern.
Whilst members of the team try to monitor our Facebook and Twitter pages regularly throughout each daily shift there are occasions when posts may go unseen for some time – subject to whatever may be ongoing at any particular time.
I appreciate it can cause frustration if someone has placed a post then feels that they are been ignored.
Former Police Community Support Officer Mike Welch is nearing the end of his training at HQ having been appointed as a Police Constable – he is set to rejoin the team at Newton Aycliffe in early May. More on that one in the next blog.
Now, it's time for a couple of court results…
Lee Emmerson, 33, from Trimdon Grange, appeared at Newton Aycliffe Magistrates Court on 4th April charged with drink driving at Rushyford. He was found guilty and fined £208.00, required to pay £85 costs to the Crown prosecution Service, required to pay a £25 victim surcharge, and was disqualified from holding or obtaining a driving licence for three years.
Caroline Alison Dicaprio, 49, from Newcastle, appeared at Newton Aycliffe Magistrates Court in relation to fraud offences committed within the town in February. She was conditionally discharged for 12 months, ordered to pay a £65 victim surcharge, and required to pay £85 costs to the CPS.
That's all for this time, so as usual…
Be good!
Mark J Edwards
Aycliffe NPT Sergeant