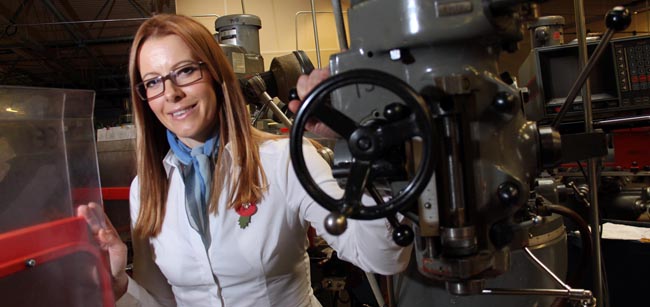 By Martin Walker
One of the region's best-known training-providers is making a conscious effort to get more girls into Apprenticeships after alarming government figures reveal the UK is trailing several European countries when it comes to recruiting females.
Kate Chapman has just been appointed the new business development manager for Aycliffe-based SW Durham Training (SWDT).
The 33-year-old began her career as an Apprentice in fabrication and welding with SWDT – formerly known as South West Durham Training – after persuading her parents to let her dump A-levels in favour of earning while learning.
And after going on to forge a hugely-successful career for herself – holding leading positions for engineering firms in Holland and Sweden – she turned full circle when she returned to SWDT in October 2012, initially as business development co-ordinator.
Now Kate is hoping SWDT can turn the tide for the region by encouraging more girls to follow in her footsteps.
"I believe passionately about Apprenticeships for girls and boys as a fantastic career path," says Kate.
"Under representation of female in STEM subjects is not unique to SWDT. It's a national problem. The UK has the lowest number of female engineers in the whole of Europe.
"The Government is looking at ways of trying to remedy the problem and we're embracing that."
EngineeringUK carried out a recent review of the data relating to women in engineering and technology and identified UKRC research that showed that only 9% of UK engineering professionals are women compared to 18% in Spain, 26% in Sweden and 20% in Italy.
A Commons Select Committee has also recently held an inquiry to review evidence submitted to address the issues.
Kate added: "We have a noticeable disproportion in male to female learners' at SWDT which currently stands at a 4:1 ratio.
"We have recognised this as an area for improvement, not only to tackle the gender bias issues, but as area for recruitment to address the engineering skills shortage as a whole.
"We have some clear targets and actions that we will be conducting, including a review of all promotion materials to show images of all learner groups via website, course brochures, programme leaflets and posters.
"We also plan to proactively organise promotional events to help promote awareness in the local area, and we'll look to local industry and education for support in this."
See this feature in our November-December issue of Aycliffe Today Business online here.