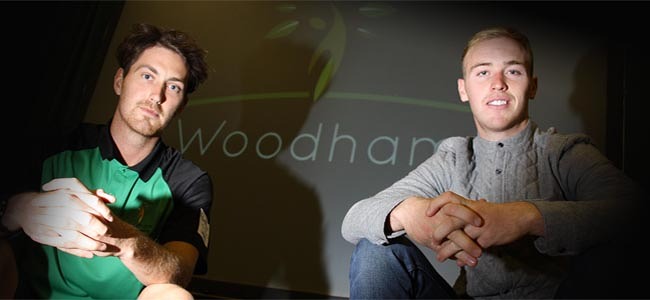 Middlesbrough goalkeeper Jason Steele is helping to launch a series of exciting coaching courses aimed at helping primary school youngsters in Newton Aycliffe.
The Newtonian, Boro's current number one keeper, is helping his friend and football coach Lewis Marr (pictured with Steele) launch the courses which is hoped will help youngsters in their transition from primary school to secondary school.
The Primary Football Academy, run by Marr's company Education Enterprise, will enable youngsters aged from four to 11 enjoy coaching sessions with fully-qualified coaches at Woodham Sports Academy.
And for the boys and girls who don't like football, the Enterprise Academy is hosting dance classes – also held by qualified dance instructors – at Woodham.
It's hoped the sessions will help boys and girls in their move up to senior school.
"It's great for all the primary school youngsters to be able to come to Woodham and check out the facilities," Steele told Aycliffe Today.
Click here to see our Video Interview with Steele
"When I was young there wasn't much of a choice for young people in Newton Aycliffe, but I think Woodham are starting to attract a lot more kids through the Sports Academy.
"Lewis Marr is doing something that is aimed at encouraging kids to come to Woodham and join the Sports Academy."
Marr added: "While our emphasis is based on having fun, we want to develop children's potential to become a successful football player using a revolutionary approach to primary coaching, delivered by fully-qualified FA coaches with contacts to all local elite clubs.
"Boys and girls can also experience a wide range of dance styles during our lessons, from contemporary to street dance, while continually improving strength and flexibility, and young people who join the Dance Academy will have the opportunity to perform in the annual Woodham Dance Academy show.
"The sessions will hopefully enable the young people of Aycliffe in their transition from primary school to Woodham, so they're familiar with the place and surroundings for when they come here aged 11."
PRIMARY FOOTBALL ACADEMY
Key Stage 1 (4-7-year-olds)
Tuesdays 5-6pm (term-time only)
Woodham Academy Sports Hall
Cost: £3.50 per session (or £3 when block booking)
Key Stage 2 (8-11-year-olds)
Tuesdays 6-7pm (term-time only)
Woodham Academy Sports Hall
Cost: £3.50 per session (or £3 when block booking)
TO BOOK: Call Josh Ridley on 07903 679740, or email [email protected]
WOODHAM DANCE ACADEMY
Key Stage 1 (4-7-year-olds)
Tuesdays 5-6pm (term-time only)
Woodham Academy Performing Arts Studio
Cost: £3.50 per session (or £3 when block booking)
Key Stage 2 (8-11-year-olds)
Wednesdays 4.30-6pm (term-time only)
Woodham Academy Performing Arts Studio
Cost: £3.50 per session (or £3 when block booking)
TO BOOK: Call Hannah Wilkinson on 07951 821238, or email [email protected]