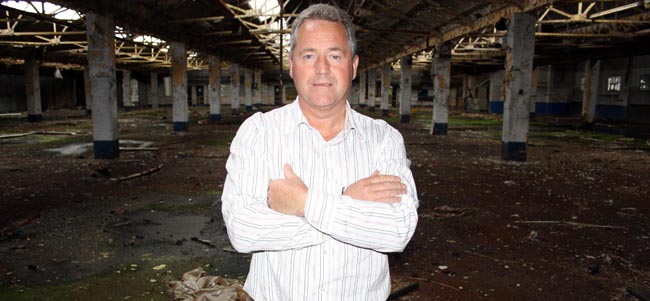 A steel firm hope to regenerate a once thriving factory which has been left dilapidated for years.
The old Presswork Metals building on Aycliffe Business Park has fallen into a state of disrepair after being left to rot since the company closed four years ago.
Now a neighbouring firm which specialises in steel fabrication is branching out to the letting business purchased the 70,000 sq ft factory.
Family-run Finley Structures, based on Aycliffe Business Park, has bought the old Presswork Metals unit on Durham Way South, which is just a stone's throw away from their main factory.
Company boss John Finley saw the three-acre site as a prime location to refurbish the building, which has stood derelict for four years, and plans to sub-let a number of units back out to either the manufacturing or leisure industries.
The purchase comes as Mr Finley also plans to develop another three-acre piece of land on the same Business Park, which he plans to turn into 10 new-build units of varying sizes.
It's a major development for Finley's, formed in 2000 which now has a workforce of 49 and a sister company, SCH Site Services, with 27 staff.
Mr Finley said: "It's been a long-held vision of mine to develop the group of companies into other industries, and both these sites offer prime locations for new leisure or manufacturing units.
"With the purchase of the SCH Site Services site and these new developments, it would take our main five-acre plot at Finley Structures to well over 10 acres all together, which is a significant investment, but one we're confident will pay dividends in the long-run."
Finley's will consider all offers of development for the factory, including separating it into a number of smaller units for small businesses.
Any firms interested in letting the units can contact Finley Structures on 01325 328120.