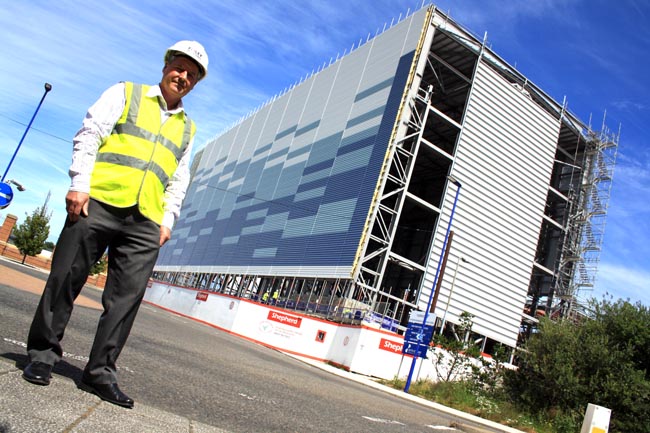 By Martin Walker
A Newton Aycliffe steel firm hoping to be involved in the construction of Hitachi's new £77m train-building facility has recently completed two major contracts in the region.
Finley Structures, based less than a mile away from Amazon Park, the site of Hitachi Rail Europe's proposed state-of-the-art factory on Aycliffe Business Park, have finished a £1.9m contract to fabricate and erect a 1,000-tonne steel frame which will form a wind turbine testing facility in Blyth.
The family run firm won the contract from Shepherd Construction after they secured a deal with the National Renewable Energy Centre (NAREC), based in Northumberland, to build three new facilities to house test rigs for full-scale wind and marine prototype devices.
While working on the NAREC contract, Finley Structures also delivered a new 800-tonne shed for Sunderland-based Unipres, working for main contractor Sir Robert McAlpine, as well as other major contracts in the North-East and Humberside.
Managing director John Finley, pictured at the NAREC building in Blyth, said: "Working on two big contracts like this at the same time has been challenging, but we've handled that challenge head-on and without any problems, which is further testament to our superb workforce.
"We continue to go from strength-to-strength, winning major contracts and taking on staff, and huge jobs like this are becoming run-of-the-mill to us."
Finley Structures, formed by Mr Finley in 2000, now has a turnover approaching £12m and regularly wins contracts from 50-tonne to 2000-tonne nationwide.
Shepherd project manager Neil Matthias said: "Finley's delivered the NAREC project on time and within the set budget, while the management and staff adopted a can-do approach, providing a well-managed, safe working environment together with efficient technical support."