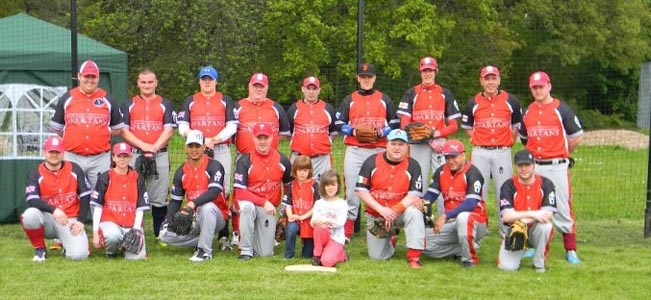 By Glen Robertson
Newton Aycliffe Spartans put in a much improved performance la but are still looking for their first win in the British Baseball Federation North League AA Division after a double defeat to Manchester Torrent.
The Manchester outfit had been the visitors at the first ever home game for the Spartans in mid-April and the North-East side returned the favour for the Torrent's home opener at their new facility at Wythenshawe Park.
Manchester Torrent took both games from the Spartans, running out comfortable winners 10-0 in the first game before Spartans were beaten 18-2 in the second.
But improvements in the Spartan's play were noticeable to the head coach, Sean Wallwein.
He explained: "Manchester gave us a huge reality check when we played them in April.  They scored 47 runs over those two games but this time, thanks to improved defensive play, we limited their scoring.
"As a team we are confident that if we can start to put runners on the bases we can get closer to these established and experienced teams."
This weekend the Spartans are on the road once again, travelling to South Yorkshire to play the league leading Sheffield Bladerunners, who boast a perfect 6 wins and 0 losses record.
Last week the Spartans had their training session taken by the highly respected and experienced Great Britain national team baseball coach, Sam Dempster.
Dempster, has spent the past five summers working as Major League Baseball's (MLB) envoy coach to Great Britain is one of the head coaches in the MLB Envoy Coaching Programme. He has coached in Germany, England, Holland, Spain and Kenya, among other countries, as an Envoy Coach.
The Spartans will welcome Dempster again next week to their training session on Thursday June 7. The Spartans would welcome anyone interested in learning more about baseball to join them at their weekly training sessions. The first  'taster'  session is always free. These are held every Thursday evening from 6pm until dusk at Horndale Field, opposite Greenfield College, Newton Aycliffe.
For further details, contact John Johnston, Team Manager on [email protected]  or visit the team's website at www.newtonaycliffespartans.co.uk