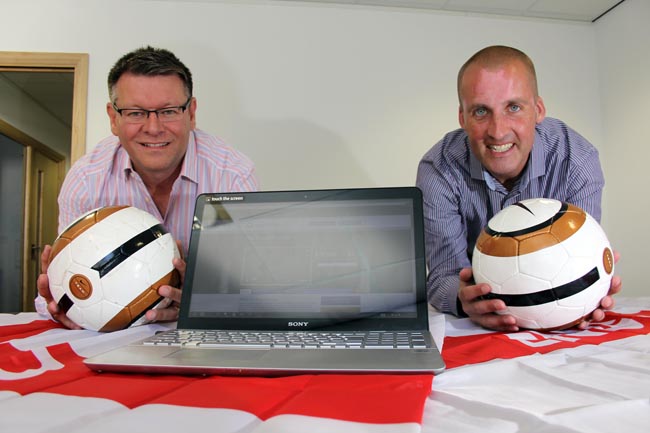 By Martin Walker
As Roy Hodgson's England side prepare to kick off their World Cup campaign against Italy on Saturday, keen footballers are being offered the chance to sign up to a rewards crowdfunding scheme to support a state-of-the-art sports facility in the region.
The Soccer Factory plans to open its first complex on Aycliffe Business Park later this year.
Aycliffe-based GrowthFunders, the North of England's first online equity and rewards crowdfunding platform, is helping the team behind The Soccer Factory to raise investment funds for its first facility.
The successful scheme has seen a number of individuals sign up buy shares and own a stake in the company, as well as securing interest from corporate investors.
Now they're offering the local community an opportunity to buy into a rewards scheme which will offer members a range of benefits including discounted court fees, VIP invites to the launch event and a chance to meet and greet Premiership football stars.
The Soccer Factory is hoping local people show their support by signing up to memberships, which start from just £10 per person.
Managing Director Dan Lewis, pictured above (right) with Growth Capital Ventures Director Craig Peterson, said: "We feel this is a great opportunity for the local community to demonstrate their support for a facility that we feel will be well received, and at the same time receive discounts on their court fees."
The Aycliffe facility is set to feature seven 3g astroturf five-a-side courts, as well as a multi-purpose court, health and fitness suite and studios.
With a café/bar and conferencing facilities to complement the offer it is a facility that has long been talked about in Aycliffe.
And Lewis hopes this new offer will give it the final push to get it open.
"Securing the funding has been difficult in the current climate," he said.
"Working with GrowthFunders has given us a clearer structure, and allowed us to open the investment up to a wider community.
"We are really excited about the rewards crowdfunding offer as they really are open to everyone."
Mr Peterson "The Soccer Factory team is making great progress towards launching its first facility and its listing on GrowthFunders is an opportunity to open this exciting business up to a wide range of investors and backers.
"The membership rewards scheme provides a fantastic opportunity for the local community to show their support to the facility and pre-order their memberships. What's more, if you're suitably experienced, you can invest from as little as £100 and become an online 'angel' and shareholder in The Soccer Factory too."
To sign up to a Soccer Factory membership, or to buy shares in the company, visit www.growthfunders.com