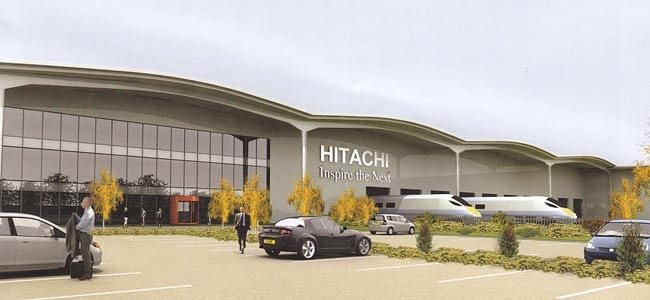 By Martin Walker
Aycliffe Today understands seven major construction firms have been shortlisted to be awarded the main contract for Hitachi Rail Europe's £82m train-building facility in Newton Aycliffe.
We understand two of them are from the North-East, with three London-based companies also in the running along with two from the Midlands.
However, Hitachi and Newcastle developers Merchant Place Developments are keen to hand as much work to local firms as possible.
So even if the main contract was to go to a firm from outside the North-East, it's likely the majority of the sub-contracting work will go to local companies.
But it hasn't stopped interest from as far afield as the US and Japan, as corporations from around the world bid to get involved.
Hundreds of contractors in the region are hoping to get a piece of the pie when the work is dished out.
More than 700 firms – ranging from steel erectors and sign-makers to electricians and plumbers – are all in the mix, with about half of them from the North-East.
When building work starts later this year the Amazon Park site will host one of the biggest construction projects in Britain as former farmland is transformed into a state-of-the-art manufacturing site complete with a research and development department and test track.
Its construction phase will create 200 jobs, and when completed in 2016 will employ more than 700 people, with thousands more in the supply chain.
A month ago, the site manager for Hitachi's Aycliffe plant, Darren Cumner, told Aycliffe Today: "Companies in the mix range from local firms to national companies, but I'm sure the winning bidder will look to use local, North-East sub-contractors.
"Looking at the bigger picture, there will also be lots of opportunities for local firms to pick up work further down the food chain."
Hitachi has been contacting the some 1,000 firms that expressed interest following supplier events in 2011 and whittled the list down to 730 contenders.
'GREAT OPPORTUNITY' FOR LOCAL FIRMS