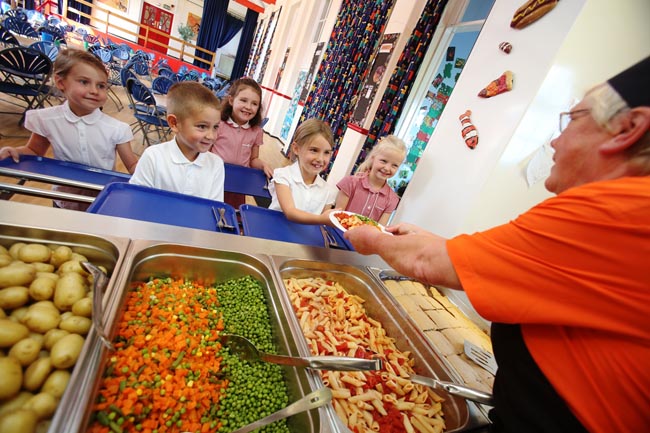 All of Durham County Council's 214 infant and primary school kitchens are serving free meals to children as the new academic year gets underway.
As well as being able to offer free meals to Key Stage 1 pupils in reception class and years one and two, each of the council's 214 schools is providing hot meals to any child, including those eligible under the current free school meals criteria.
The free school meals initiative was announced by the Government in 2013 and will see every four to seven-year-old in primary schools across England eligible for free dinners.
County Durham was part of a national free school meals pilot between 2009 and 2011, which showed that many children who benefitted from a daily, hot, healthy school lunch made more academic progress than those not taking part.
It is expected that up to 85 per cent of eligible children will take advantage of free school meals this academic year based on figures collected from the pilot scheme.
The Government handed the council £1.1m to improve kitchen and dining facilities in schools in order to provide the free school meals. Some schools have contributed a combined £157,236 of their own finances to further upgrade their kitchen and dining facilities as part of wider building projects in preparation for the changes.
Alison Young, health and wellbeing operational lead at Durham County Council, said: "We are excited that once again we can deliver free school meals to some of our youngest school children.
"The success of the pilot between 2009 and 2011 showed that children achieved up to two months more academic progress than those who didn't receive free school meals.
"We hope parents will take the opportunity for their children to access hot, nutritious school meals, which will also give children the chance to eat together, try new foods and enjoy a more varied diet."
Research shows that that having a healthy and nutritious lunch boosts concentration and speeds up learning.
All school meals in County Durham are freshly cooked on site and meet or exceed national nutritional standards.
Emphasis is placed on sourcing food from regional providers, quality assured and sustainably sourced. Special diets are also catered for.
Every infant and primary school has a cafeteria-style service offering a full range of dishes, including traditional meals, deli and salad bars
Details of free school meals for reception and years one and two pupils, including example menus, are available here.
Details for other pupils across County Durham who may be eligible for free school meals are available here.