Newton Aycliffe residents were on high alert this morning after a vast sinkhole covering the whole Northern area of the town was discovered.
Scientists have unearthed a huge, 20-foot deep underground cavern stretching two miles from the edge of the town centre to Rushyford.
Boffins believe the problem dates back to when water retreated at the end of the ice age, causing a huge mountain of ice to trap under the alluvium.
That melted over the following centuries, leaving a vast, precarious cavern in an extreme natural phenomenon known by environmental experts as 'Air Floplo'.
Government scientists have dismissed fears as "possible, but hardly imminent".
But our source told us: "All the recent building activity in Aycliffe – including the Hitachi site and, in particular, the new care home in the town centre – has weakened the ceiling, which now threatens to give way.
"The fear is it could plunge several hundred houses over a two-mile radius into a sinkhole dozens of feet deep."
It's thought recent floods have set huge underground rivers flowing through the cavern, destabilising the structure, although the local UKIP candidate has put it down to EU "red tape".
The sinkhole has been likened to the Bayou Corne sinkhole in Louisiana, United States (pictured below), which was discovered in August 2012 and led to an evacuation of nearby residents.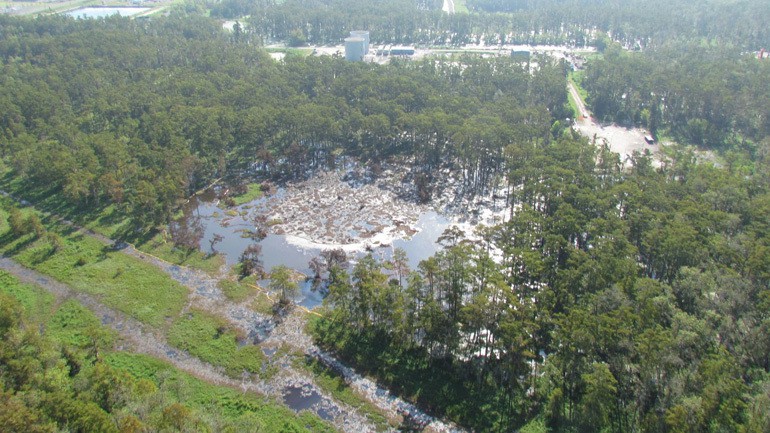 One well-known, outspoken Aycliffe councillor, who asked not to be named on this occasion, has described the lack of evacuation plans here as "criminal".
"It's playing with people's lives," he typed furiously. "The slightest earth tremor could set the whole thing off. The lack of action is nothing short of scandalous."
In the event of a tremor, residents are urged to take evasive action and flee to higher ground in School Aycliffe or nearby Thickley.
Meanwhile, plans are already in place to construct a concrete and steel cap stretching from the town centre to Woodham Golf Club, although planning officers have denied it will include a row of several well-known high street shops.
"It may include some small retail provision, like a sandwich shop," a senior planner told us.
"But we're certainly not expecting Next and M&S here any time soon."
Experts have also suggested drilling a well into the cavern and filling it with hot air. The local council has been asked to help.
Updated at 12noon: In case you didn't already spot it, this was of course an April Fool. There are no sinkholes in Newton Aycliffe (that we're aware of, anyway).