Sir Richard Branson has unveiled the first of Virgin's new fleet of trains which will be built in Newton Aycliffe.
The 65 new inter-city trains – called Azuma, the Japanese translation for east – will cut journey times on the East Coast Main Line by up to 22 minutes.
The state-of-the-art carriages, which will initially reach speeds of up to 125mph, will be built at Hitachi Rail Europe's new factory on Aycliffe Business Park, which was opened by the Prime Minister David Cameron and Chancellor George Osborne last September.
The Azuma was unveiled during a ceremony at London's King's Cross station.
Set to revolutionise travel on the East Coast from 2018, the Virgin Azuma will be one of the most advanced trains on the UK's rail network, and will embody the customer-centric approach which Virgin Trains is famous for.
The 65 new trains will provide an extra 12,200 seats for a new and expanded timetable, while the fleet of Virgin Azumas will increase capacity into King's Cross by 28% during peak time.
Branson, founder of the Virgin Group, said: "This is a hugely important moment for passengers on the East Coast.
"A line which has witnessed the historic Flying Scotsman and Mallard will now see passenger services transformed with the UK's most advanced long distance trains.
"Our customers on the West Coast have already seen what Virgin can bring to train travel and how the Pendolinos have made a huge difference to speed and comfort.
"Our new fleet of Azumas will bring a similar transformation to the East Coast, and propel one of the UK's most prestigious lines into the 21st century."
Secretary of State for Transport, Patrick McLoughlin, said: "The state-of-the-art Intercity Express trains heading to Virgin will transform rail travel for passengers between London, the north east and Scotland.
"These new trains, combined with Virgin's exciting plans for the franchise, will provide more services, more seats, and faster journeys, helping to place passengers at the heart of the railway."
Hitachi Rail expects to employ more than 700 people when its £82m Aycliffe factory is fully operational later this year.
Managing director Karen Boswell said: "Hitachi has a long and proud heritage producing top quality, high-speed trains, going back to 1964 when our first 'Bullet Train' entered passenger service in Japan.
"We are, therefore, thrilled to be delivering the trains which from 2018 will transform the journey experience for tens of thousands of Virgin Trains customers travelling between London and Scotland along the East Coast.
"We are doubly proud that these new trains for the East Coast are being manufactured right here in the UK, creating some 730 new long-term jobs, engineering careers and apprenticeships."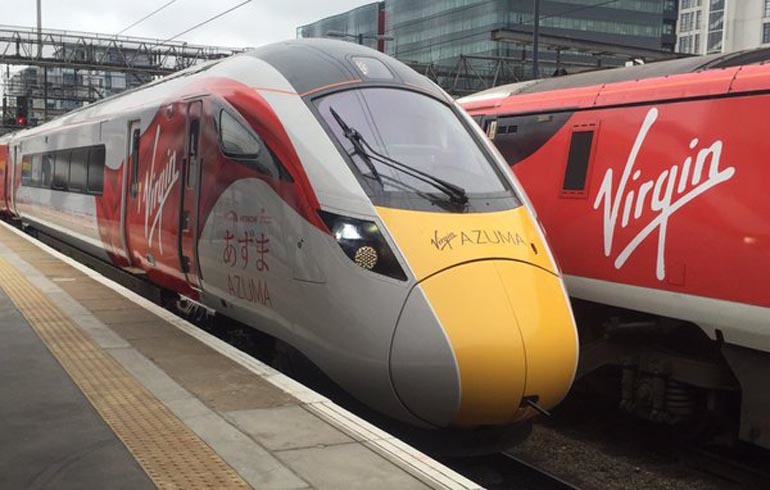 Key attributes of the Virgin Azuma include:
• Faster acceleration: The Azumas will accelerate more quickly, slicing up to 22 minutes off East Coast journeys and making 4hr London-Edinburgh journeys, and 2hr London-Leeds journeys, the norm. They will accelerate from 0-125mph around a minute quicker than the current fleet1
• New direct services: The faster journeys will make direct routes to new destinations such as Middlesbrough and Huddersfield possible, as well as a big increase in through services to places such as Harrogate and Lincoln
• Greater comfort: The trains will have some of the best leg-room on the rail network, as well as ergonomically designed seats in both first and standard
• Virgin's unique feel: Both the interior and the exterior of the new fleet with have that distinctive Virgin atmosphere
• Lower emissions: The trains will be lighter and more energy efficient, making them some of the most environmentally friendly in the UK
• Improved facilities: The trains will have faster and free Wi-Fi, an improved traffic-light reservation system2, power sockets for every seat and more overhead luggage space
• Buffet cars: An onboard shop is a key part of the experience for passengers