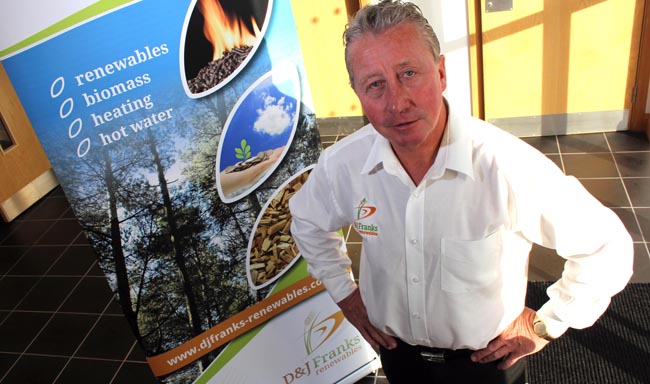 A Durham company which provides renewable energy systems to businesses and consumers has set up a new base on Aycliffe Business Park.
D&J Franks Renewables, a division of D&J Franks Plumbing & Heating, supplies the UK commercial and domestic sectors with affordable, effective and efficient biomass, air and ground source pumps and other renewable energy sources.
D&J Franks is already in discussion with a number of high-profile firms in Aycliffe, including Ebac, in relation to partnership opportunities, while it is looking to create a new Renewable Energy Centre which will take on Apprenticeships covering a whole range of renewable technology support.
Interest is flooding in already as D&J Franks Renewables demonstrates to businesses how they can generate and use green heat, as well as how to get extra cash back under the Government's Renewable Heat Incentive (RHI).
Director David Franks (pictured) said: "Our expansion into the renewable sector, after 40 years in the gas and oil heating industry, has been driven by an increase in demand for green energy solutions from our marketplace.
"Some of the benefits of installing Biomass include a reduction in fossil fuel costs by between 30 % – 50% and in CO2 emissions by up to 96%.  With the rise of energy costs constantly being of concern to businesses, our clients trust us and are now looking for us to support and guide them into this relatively new arena.
"To this end, we are now able to assist existing and new clients with site surveys, design, installation and maintenance of complete biomass boiler heating systems."
"There has never been a better time to consider renewable energy options," added David.
"Whether that's biomass, solar thermal, solar PV, air source heating or ground source heating, we can educate our clients on all of the options available and help them decide what's best for them.
"It's a very easy way of saving money while earning extra money – a business no-brainer."
To find out more about D&J Franks Renewables, you can:
● Call them on 0800 1244 440
● Email [email protected]
● Visit www.djfranks-renewables.co.uk