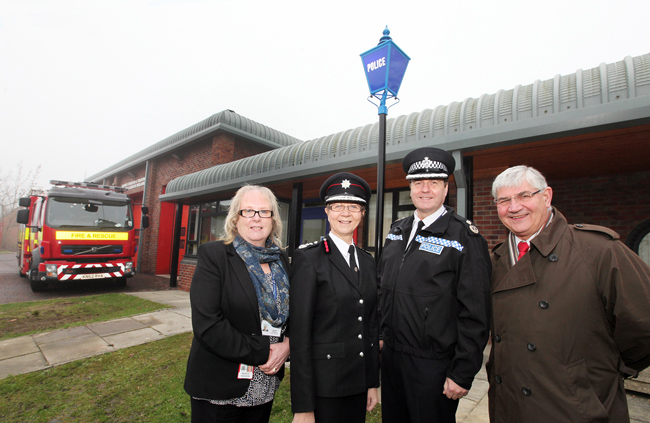 Newton Aycliffe's police team has officially moved into their new home, sharing with the town's fire brigade.
The County Durham and Darlington Fire and Rescue Authority building on Central Avenue has become home to some of Durham Constabulary's operational staff.
From Wednesday (11th December), local policing teams will begin working from Newton Aycliffe Fire Station, a move that will help to provide a town centre police presence in the area.
The collaboration, believed to be one of the first in the country, will see the fire and rescue service sharing accommodation with police neighbourhood teams, community support officers and response teams.
The Fire and Rescue Service will continue to provide its operational response and community safety services from the station. The police station within the building will be open from 10am to 5pm Monday to Friday.
Michelle Hodgson, Chair of County Durham and Darlington Combined Fire Authority, said: "The sharing of the fire station in Newton Aycliffe makes operational and economic sense.
"Our police colleagues approached us to see whether we could assist them in providing a town centre presence and as a key partner we have worked with them to ensure their needs can be accommodated in our fire station.
"We already share buildings with the ambulance service across the county and this is a great opportunity to work more closely with our police colleagues. The shared accommodation will also provide opportunities for our staff to work together in new ways as both organisations look to make significant budget savings over the next few years."
Ron Hogg, Police and Crime Commissioner for Durham Constabulary, said: "This is great news for the public of Newton Aycliffe; not only are we giving them a town centre presence which they want, we are also saving money compared to the cost of renting Parson's Court on the Industrial Estate out of town.
"We are also making better use of a publicly owned building, which will hopefully increase public confidence.
"We are building on the excellent working relationship we have with our colleagues within the fire service who have been extremely supportive of this initiative."
Pictured above (from left): Councillor Michele Hodgson, Chair of County Durham and Darlington Fire Authority, Susan Johnson chief executive of County Durham and Darlington Fire and Rescue Service, Michael Banks, deputy chief constable for Durham Constabulary, Ron Hogg police and crime commissioner for Durham Constabulary with firefighters and police officers at Newton Aycliffe Fire Station.