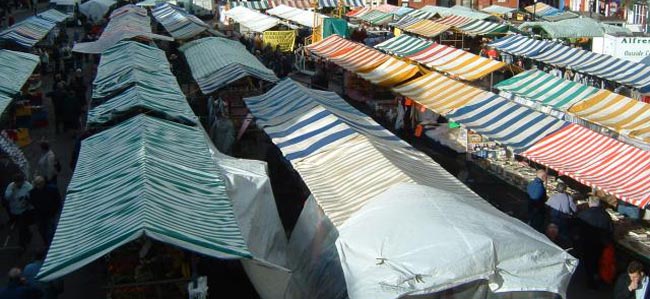 Councillors will be asked to agree plans to revitalise markets in County Durham when they meet next week.
The draft strategy – Revitalising Markets in County Durham – was drawn up as part of a bid to ensure markets are effectively managed and are given the opportunity to develop and thrive as part of wider town centre regeneration initiatives.
The strategy was published in June last year and has since been amended to take into account feedback following a consultation with market traders, customers, area action partnerships and town and parish councils.
It recognises the vital role markets play in creating strong local town centre economies and in offering choice, value for money and good quality local produce for consumers.
The consultation confirmed that if markets are to thrive there needs to be changes to how they are managed and promoted, which should lead to increased customer satisfaction and more shoppers using them.
Cllr Bob Young, Cabinet member for strategic environment at Durham County Council, said: "It is clear that markets are struggling with today's economic pressures and we need to encourage and support local businesses and traders in the revival of our markets.
"The proposed strategy recognises the tradition and value local markets bring to our town centres and communities and looks at how we can help attract more residents and visitors to use markets by offering more choice, fresh produce and overall a more pleasurable shopping experience."
Cllr Neil Foster, Cabinet member for regeneration and economic development at Durham County Council, added; "Local markets are an important part of the town centre economy the feedback we have received confirms that they are valued by local people.
"We want to see our local markets thrive and this strategy is aimed at strengthening market provision and encouraging more shoppers to use them."
Members of Durham County Council's Cabinet will be asked to agree the new strategy and note the next steps that would be involved in delivering the key priorities set out in the strategy.
They will also be asked to agree measures that will enable new management options to be explored in greater detail with potentially interested parties.
Cabinet will meet next Wednesday (16th January) at 10am at Crook Civic Centre.