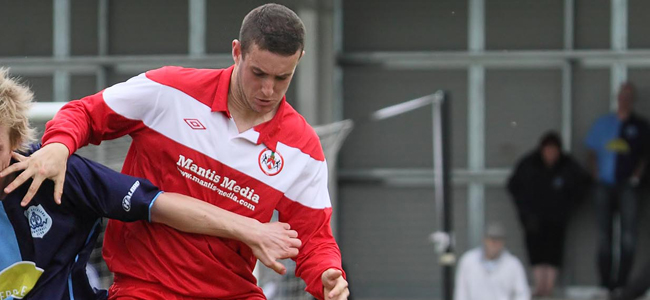 By Glen Robertson
Newton Aycliffe's defender Mark Peck has thanked those who donated money to him and family, following his serious leg injury.
The 22-year-old required emergency surgery at the University Hospital in Durham  last month after an artery burst in his lower leg. It has meant he is forced to stay off work while the wound heals, which could take up to three months.
Peck and his girlfriend have a seven-month-old son, meaning his lack of income from work could prove problematic, but the players, staff and fans of Newton Aycliffe FC rallied to support the young family by raising over £200 during Aycliffe's game against Ashington a fortnight ago.
The gesture was gratefully received by Peck, who is currently recovering at his home in Chester-le-Street. He told Aycliffe Today: "I need to thank all the lads and everyone who contributed for what they did. I appreciated it and it meant a lot.
"The support from everyone involved with the club has been brilliant. To know people had gone out their way to do something like that for me and my family is good to know and I'd like to thank them all.
"My family have been very supportive as well and I can't thank them enough for the support they've given me. My son is helping to cheer me up as well which is nice. My family and friends have all helped me pull through this and I'll always be grateful for that."
The doctors have said he may not be able to play football again for a year, but the defender – who has made 56 appearances for the club since joining from Whitehill FC in 2010 – is hoping to be back in action as quickly as possible.
"After receiving all this support from everybody, I just can't wait to come back and pull on the shirt again," he said. "I've loved every minute of my time at Aycliffe. It's a great club with a quality set of lads and hopefully I'll be back sooner rather than later."
Aycliffe hope to host local rivals Shildon on Saturday in Northern League action. The Newtonians's scheduled game last weekend was postponed due to a frozen pitch, and there are fears this weekend's game could go the same way, with freezing temperatures expected overnight.
Should the game go ahead, it will be the fifth meeting between the two sides this season. Allan Oliver's side have been knocked out of both the Durham Challenge Cup and the FA Vase by the Railwaymen – the latter in a replay – but hold the bragging rights in the league after a 4-1 victory at Dean Street in October.
Shildon are currently down in 14th in the Northern League, but Aycliffe manager Oliver is among those who believe the Railwaymen are in a false position, and will be dangerous opponents. Aycliffe are up in sixth-place in their debut season in the Northern League first division.
Kick-off is 3pm at Moore Lane Park, with tickets priced at £5 adults and £3 concessions.