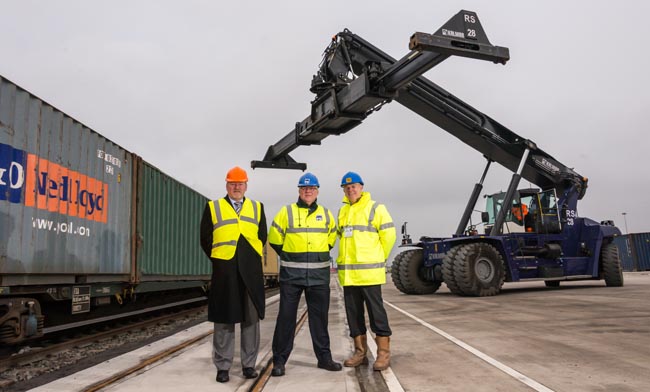 PD Ports has welcomed the arrival of the first Freightliner train at Teesport's new intermodal rail terminal as part of a £3m investment to improve connectivity.
The first train arrived on Saturday 15th November, signifying the creation of new intermodal connections from Teesport to Felixstowe and Southampton.
Opportunities for the establishment of further new routes to Scotland, the Midlands and the North West are expected in line with market demand.
The establishment of the new rail terminal, built by Owen Pugh Construction, is the latest major phase in PD Ports' wider on-going investment at Teesport and follows on from the £16.7M container terminal expansion development in 2011.
This investment further cements Teesport's position as the UK's leading provider of portcentric logistics, offering greater operational flexibility and improved efficiencies for customers.
Earlier this year PD Ports opened an office on Aycliffe Business Park.
The firm's CEO David Robinson said: "We're delighted to announce that the new rail terminal is now fully operational.
"We have invested significantly in expanding the intermodal services available at the Port and the arrival of Freightliner provides a greater level of service options, as well as improving our portcentric capability for our customers.
"There has been a significant amount of press coverage lately centred round a better connected north including greater use of our rail network and waterways to move goods around the country.
"Our facility at Teesport has the potential to further attract logistics activity to sites with efficient low cost transport networks and we will continue to work hard to see this come to fruition."