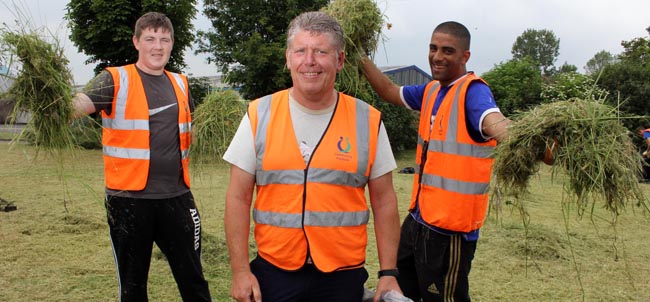 By Martin Walker
Areas of Aycliffe Business Park have been spruced up thanks to the unpaid unit of the Probation Trust.
Finley Structures boss John Finley, who's spearheading a drive to tidy up the estate as part of his role on the ABP steering group, met with Gordon Wooding from Durham Tees Valley Probation Trust earlier this year about how the organisation might be able to help.
As a result, the unpaid unit of the Trust has been carrying out work on Whinbank Road and Durham Way South.
Click here to see our Video Feature
Gary Hopper, unpaid work supervisor for Durham Tees Valley Probation Trust, who's pictured with some of the workers, told Aycliffe Today Business: "We've done some chipping and tidying up on Whinbank Road and on Whitfield Road, where we've also strimmed the long grass down to a decent level so some of the vacant premises look a bit more appealing.
"It makes a huge difference. A lot of people have stopped as they've passed and commented on how better it looks.
"There's been some hard work, but we've knuckled down and the lads have done a really good job, and hopefully the grass will just need occasional lawn-mowing from now on and easier to look after.
"We've been on this site four days, and I've got nothing but praise for the lads and they've all done their bit."
Mr Finley added: "The work the Trust has done has been excellent – it's a great example of how, with a bit of communication and hard work, we can all work together for the mutual benefit of the Business Park."