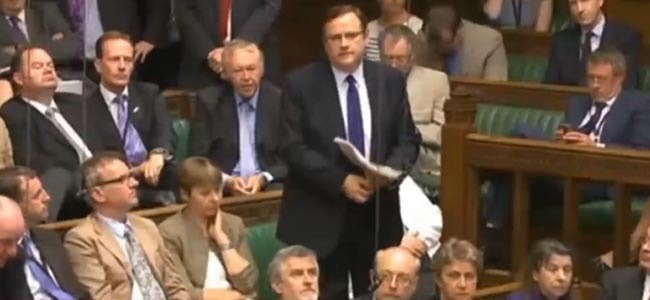 By Martin Walker
Newton Aycliffe MP Phil Wilson caused a stir in the House of Commons during Prime Minister's Questions on Wednesday.
During heated PMQs yesterday, billed the fieriest ever confrontations between David Cameron and Labour leader Ed Milliband, the Labour MP for Sedgefield pitched a rare question to the Premier.
MPs – who were today handed a controversial £6,000-a-year pay-rise – are warring over Labour proposals for a £5,000 cap on donations to political parties and a limit on MPs' earnings from second jobs.
During the debate, Mr Wilson asked Mr Cameron: "How many jobs should an MP have?".
Daily Telegraph political editor James Kirkup labelled it "the question of the day" which left the House of Commons "briefly silent".
Click here to see Mr Wilson's question and Mr Cameron's answer
However, Kirkup claimed Labour and Milliband failed to take the initiative.
He wrote: "In many ways, what has followed has a classic illustration of Miliband politics: having identified a good issue and offered a sharp line on it, Labour has since done its best to mess up the delivery."
In his blog, Kirkup added: "Is there a moral or political difference between being paid to give speeches to business people and sitting on the board of a business? What about income from shares, investments, properties? Or royalties from books or even — worst of all — journalism?
"In short, the Labour line has not been clear today; Mr Miliband must do much better if he is to seize the opportunity he has created here."
In response to Mr Wilson's question, meanwhile, the Prime Minister replied: "All members of parliament have a clearest possible duty to their Constituents.
"But let me make this point. Do I think the House of Commons benefits from people like the Honourable Member for Blackburn (Jack Straw) and his experience, and the Honourable Member for Sheffield Brightside (David Blunkett) who comes to this House with his experience?
"I think we do benefit. I'm not sure we benefit from our immediate predecessor, but there are Honourable members opposite who give good service to this house."