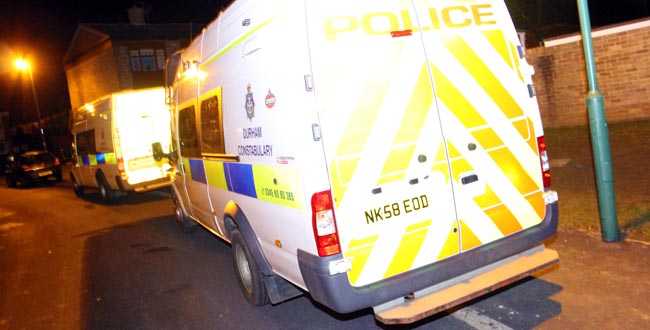 EXCLUSIVE By Martin Walker
Police smashed their way into three houses in Newton Aycliffe as part of a huge covert drugs swoop.
Durham Constabulary's Operation Orient involved more than 165 police officers targeting 15 premises in the County – three in Aycliffe as well as six in nearby Shildon and another six in Bishop Auckland.
Aycliffe Today attended the operation, which started by meeting Aycliffe officers at 4am before travelling to a secret location near Durham for a briefing attended by County Durham Police & Crime Commissioner Ron Hogg.
Then, under early morning darkness, teams of 11 or 12 officers were dispatched to the 15 different locations, where a synchronised strike on all addresses was ordered at about 6am.
Officers used specialist equipment to force their way into the premises – one in Agnew and two in the Horndale area – before the homes were searched and suspects taken to various different police stations for questioning.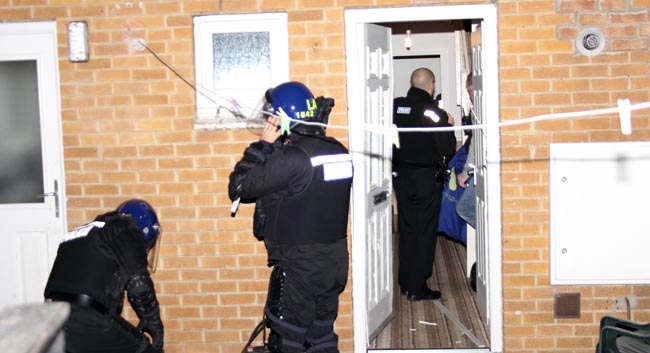 Police force their way into one of the Aycliffe premises during this morning's raid
It's believed at this time that all 15 premises are not necessarily connected, although some of them may be.
An official police statement is expected later today, when details of what's been recovered from the operation is expected to be revealed.
But officers told us today's strikes were just the culmination of months of intelligence gathering, building up enough evidence to create a strong enough case for prosecution.
During the briefing, Durham Constabulary Chief Inspector Dave Turner told officers: "It's taken us nearly five months to get here today.
"In excess of 165 police officers and support staff behind the scenes working hard in a cross-command operation."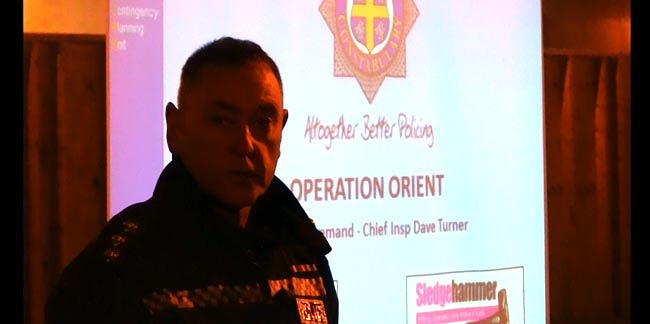 Chief Inspector Dave Turner briefs officers during the 5am meeting
Chief Insp Turner also thanked members of the public, adding: "They pass us the information, and we have to thank them for their patience and tolerance.
"This is something that has been going on in their communities, but hopefully something we can redress today."
We'll bring you more on this later, including reaction from Aycliffe Neighbourhood Police Team Sergeant Mark Edwards who was part of the operation with other officers from Aycliffe.