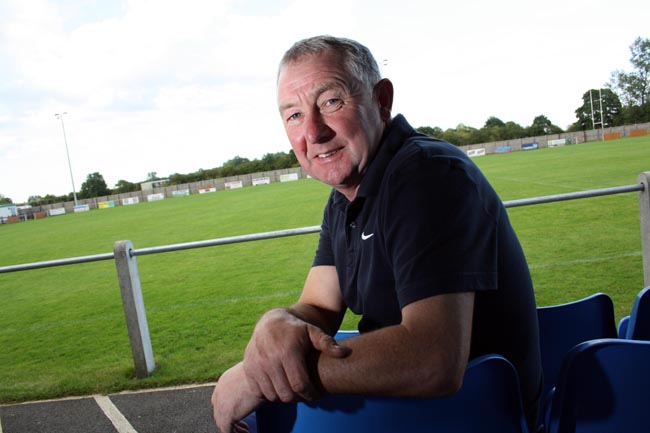 By Martin Walker
Newton Aycliffe FC manager Allan Oliver has tonight taken over as the club's chairman – handing the managerial reins to star man Dan Mellanby.
The decision – taken by Oliver at the weekend – was passed tonight by club officials, with Mellanby taking charge of first team affairs with immediate effect.
Oliver takes over from long-time chairman Gary Farley, who retains his role as assistant manager to Mellanby.
Oliver, who powered Aycliffe to the Northern League top flight and managed more than 300 games, felt the need for a new direction at the club.
He said, "I am extremely proud of the job I have done at the club, but it's time for a change. Dan is a fantastic player, a fantastic coach and I know he'll make a fantastic manager.
"He has the right attitude, and the right ideas, and he'll take no nonsense in there. If the players think they're getting a mate first and a manager second, they can think again.
"I've known Dan for 20 years, and he has the highest of standards. He's the right man at the right time to take this club to the next stage."
Outgoing chairman Farley added, "I'd personally like to thank Allan for his hard work and dedication over the past eight seasons. Without that man, this club would still be playing local pub football.
"If he's half as successful in his new role as he was in the one he's just vacated, then this club will be in an ever better position in years to come."
Since taking over at Aycliffe, Oliver took them to a string of cup successes in the local leagues before embarking on an ambitious campaign to climb the leagues.
Three promotions later and Aycliffe were in the Northern League first division for the first time ever.
FA Cup football was also brought to the town thanks in the main to Oliver's ambition.
His contribution towards the town's football club – and helping to put Newton Aycliffe "on the map", as MP Phil Wilson once said – was probably underestimated.
Luckily, Aycliffe have a successor who understands the town and the fans, and is a popular figure with supporters.
Naturally, Aycliffe Today wishes Mellanby every success.