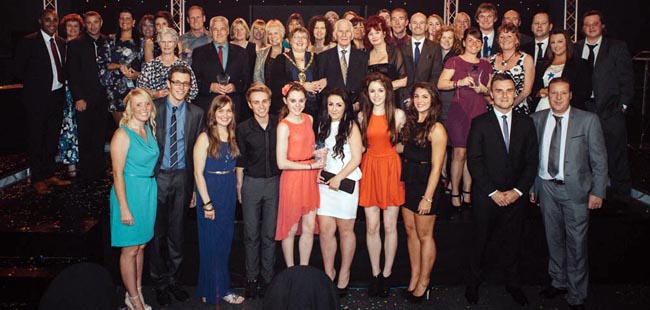 By Martin Walker
A Newton Aycliffe primary school and a renowned swimming coach from the town were among the honours at a glittering awards ceremony at the Xcel Centre.
More than 300 guests celebrated the achievements of clubs, coaches, schools and volunteers from the world of sport and physical activity at the ninth annual County Durham Sport Awards Dinner, held at the Xcel Centre on Aycliffe Business Park last Friday.
The awards, a partnership between County Durham Sport and Durham County Council, recognise the dedication of the unsung heroes of sport and physical activity across the county, with the winners of the 13 categories announced on the night:
John Moore, a well-known swimming coach for Sedgefield 75, picked up the Coach of the Year award, and Byerley Park School was singled out for the best Primary School Contribution to PE and School Sport.
John Moore (Coach of the Year)
In the last 12 months John has produced the World Record Masters on 400m Freestyle, the European record holder on 200m Freestyle and the British record holder on 100 Backstroke.  John has held the post of Chief Coach at the club for the last 30 years.  At the younger end of age group, the club took the Gold in the 100m Breast Stroke and Bronze in the 100m Freestyle at the Nationals and Gold in the 100m Breast Stroke at the County International meet, this swimmer will represent the club in Slovakia in November.  John also coaches on the CPAL project and over the last 12 months he has not only supported this project but developed a new adult programme for non-competitive swimmers training.  John is much loved and respected by all and as well as the 40+ voluntary hours he does each month he delivers seminars, again all voluntary on his passion of Physiology and its application to training.
Byerley Park (Primary School Contribution to PE and School Sport, sponsored by Public UK Ltd)
Byerley Park Primary has been promoting sport and the Olympics throughout school and within the local and wider community for many years.  Since signing the Olympic Pledge in 2010 their increased dedication and commitment to sport has been recognised and rewarded by the Get Set Network.  The school was selected as one of only 67 Primary Schools nationally to join in London 2012 itself, forming part of the Guard of Honour.  This involved pupils welcoming world athletes to the Games on the evening of the opening ceremony.  In 2012 the whole school has actively promoted the Olympics and Parlympic values through their work, including weekly themed assemblies and Wenlock and Mandeville's sporting daily adventures with children.  Every child within the school has also taken part in at least 1 intra-school competition and 6 inter-school competitions.  A recognisable local achievement was their successful bid to host an Olympic "Lighting the Fire" celebration.
Other winners included:
Contribution to Physical Activity (sponsored by County Durham and Darlington NHS Foundation Trust)
Winner: Middleton in Teesdale Community Fitness Suite (The Dales)
Physical Activity Achievement of the Year (sponsored by NHS County Durham and Darlington)
Winner: Susanne Devanney (Derwentside)
Young Coach of the Year (sponsored by Allergate House)
Winner: Samantha Robson (Sedgefield)
Secondary School Contribution to PE and School Sport
Winner: The Academy at Shotton Hall (Easington)
Volunteer of the Year (sponsored by NHS County Durham and Darlington)
Winner: John Tribble for Durham (Chester le Street)
Young Volunteer of the Year
Winner: Martin Green (Easington)
Sports Club of the Year (sponsored by D&P Trophies)
Winner: Tootill Amateur Boxing Club (Sedgefield)
Junior Sports Club of the Year
Winner: Louisa Allstars Trampoline Club (Derwentside)
Sporting Achievement of the Year
Winner: Stephanie Houghton for Easington
Young Sporting Achievement of the Year (sponsored by Durham County Council)
Winner: Mica McNeill (Derwentside)
Contribution to Sport
Winner: Bob Tinkler (Durham and Chester le Street)