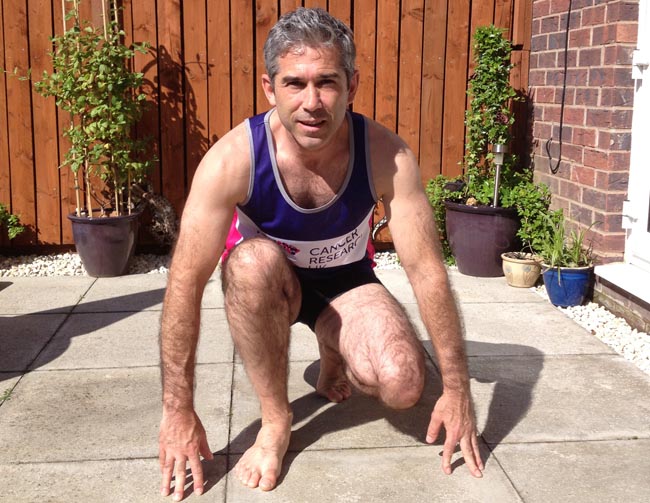 A Newton Aycliffe man is showing he is a hardy 'sole' by rising to one of the UK's biggest sporting challenges and tackling it barefoot.
Steven Wood, aged 45, from the town, will be taking part in this year's Bupa Great North Run – the world's biggest half marathon – on Sunday September 15, to raise money for Cancer Research UK, and will be pounding the tarmac without shoes.
Steve is encouraging anyone who has secured a place to raise money for research into the causes, treatment and prevention of cancer by joining Cancer Research UK's Sports Team.
Steve is determined to conquer the famous 13.1 mile route from Newcastle to South Shields in support of his partner's mother, Ruth Parker, who is currently being treated for cancer.
Ruth, 68, was diagnosed with non-Hodgkin lymphoma in March of this year and is being treated with chemotherapy
Steve, who owns an IT networking company, has been training hard to get his feet in shape for this challenge. He has managed a distance of nine miles barefoot so far to toughen them up for the big day.
He said: "When Ruth was diagnosed earlier this year it knocked the wind out of us. So I decided I wanted to do something challenging to support her and Cancer Research UK. I thought doing the Great North Run in bare feet would be something different and that it would catch people's attention."
Cancer Research UK hope over 2,500 runners will raise £750,000 to help beat the disease.
Cancer Research UK receives no Government funding for its ground-breaking research but with help from the people of the North East, the charity intends to bring forward the day when all cancers are cured.
Thanks to the generosity of its supporters, Cancer Research UK spent around £5 million last year in the North East supporting the work of doctors, nurses and scientists who are dedicated to beating cancer by understanding its causes and investigating how best to prevent and treat it.
Helen Jackson, Cancer Research UK's Head of Sports, said: "We're delighted that Steven is part of our team this year.  It's thanks to support like this that Cancer Research UK's doctors, nurses and scientists are able to go on making progress in the fight against cancer.
"We are keen to hear from anyone who has secured their own place in the Bupa Great North Run but hasn't chosen a charity to run for yet.  Please join the Cancer Research UK team and help raise money for vital research. We'll be there on the day to cheer you on and would be delighted to welcome you back to our post race reception once you've crossed the finish line."
To sponsor James go to www.justgiving.com/steven-wood10
For more information about running for Cancer Research UK in the Bupa Great North Run call 0871 641 2403.