Newtonian footballer Simon Ramsden has dramatically switched allegiances just hours before derby day kick-off.
The former Sunderland supporting Gateshead defender has dumped his beloved club in favour of the mighty Toon Army as the two huge rivals prepare to contest arguably the biggest North-East derby since the play-off semi-finals of 1990.
Former Bradford and Motherwell right-back Ramsden, who started his professional career with boyhood club Sunderland, is now being dubbed the "Tyneside Turncoat" after the controversial move.
But Aycliffe Today understands friends close to the 34-year-old semi-pro pool player and part-time race horse tipster think it's been a long time coming.
Sick-note Ramsden, who hasn't played for seven years due to a groin strain, is disillusioned with the Black Cats after several uninspiring and trophy-less seasons (they haven't won a trophy in his lifetime).
Paul Sessford, chairman of the Newton Aycliffe branch of the Newcastle United Supporters Club, said: "We're delighted to welcome Rambo to the club, we know he's been a long-term admirer of our great team for many years.
"You can understand him wanting to support a big club – we can only imagine what it must be like to live in the shadows of the Gallowgate End for so long.
"But now he has finally seen the light, we welcome Simon with open arms and look forward to celebrating with him when we return to the Big Club triumphant on Sunday afternoon."
Ramsden has already had "Toon Army" and "SMB" tattoos emblazoned across his chest to accompany his dodgy array of inks.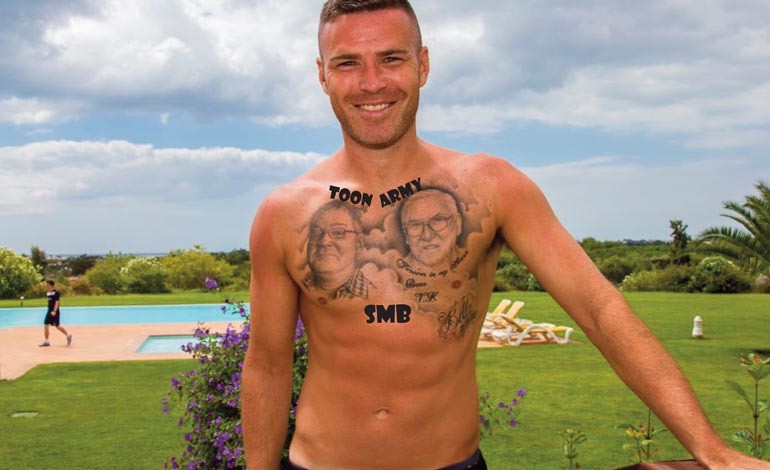 And the amateur vodka drinker is said to be relishing his first Tyne-Wear derby as a Newcastle fan.
But the news has angered proper diehard Sunderland supporters.
Richard Parker, who hit national press and Sky Sports headlines after a spoof takeover bid of United in 2009, said: "This is just arful, arful, arful.
"A cannet believe the bleedin' cheek of it. A hope we ram it doon his throat on Sunda."
Kick-off at St James' Park is 1.30pm.