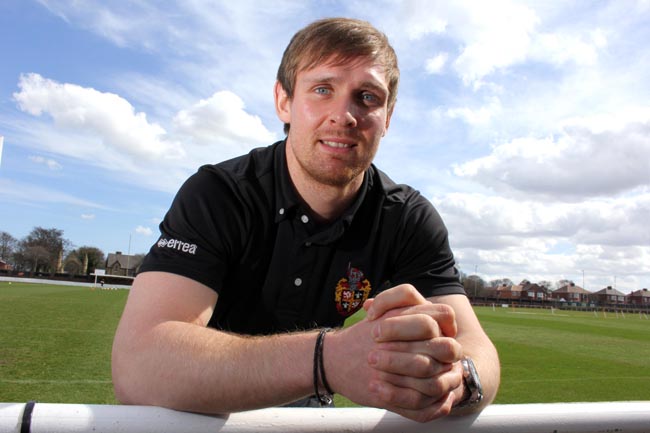 A Newtonian is looking forward to a boyhood dream when he's expected to play at England's national stadium next week.
Chris Mason, a former Woodham Academy pupil from Aycliffe, has been with Spennymoor Town for the last four seasons, winning three Northern League titles with Aycliffe's County Durham neighbours.
The 26-year-old defender, who works as a residential social worker at a Darlington young people's home, is hoping to play at Wembley next Saturday (May 4) when his side take on Tunbridge Wells in the FA Carlsberg Vase Final, the FA's third biggest cup competition behind the FA Cup and the FA Trophy.
Mason said: "It'll definitely be the highlight of my career so far. I've got about 15 friends and family going down from Aycliffe, everyone is really looking forward to it.
"It'd be great to see Aycliffe supporters, all football fans who have an interest in the non-league game, going down to support us.
"Our chairman has done a cracking deal with travel meaning it'll cost just £35 return to go and see one of your local teams play at Wembley, which is decent value to be fair."
After winning three consecutive Division One championships with Moors, Mason admits the FA Vase is Spennymoor's Holy Grail.
"It's what everyone at this level wants to win," he said. "We've seen Whitley Bay go and win it a few times and Dunston last year, so hopefully this year it'll be our turn.
"We've gone about things properly as a club, we've earned the respect of other players and managers and we've managed to lose the Big Time Charlie tag – we're just a normal bunch of working class lads, like most of the teams in the Northern League."
• Tickets for the FA Vase Final cost just £15 adults and £5 Under-16s and are available from www.TheFA.com/tickets or 0844 980 0656. Return coach travel is priced just £20 each and is available from the Wembley Club Shop under Spennymoor Town Hall (9am-5pm Mon-Fri, 9am-1pm Sat) or from www.spennymoortownfc.co.uk