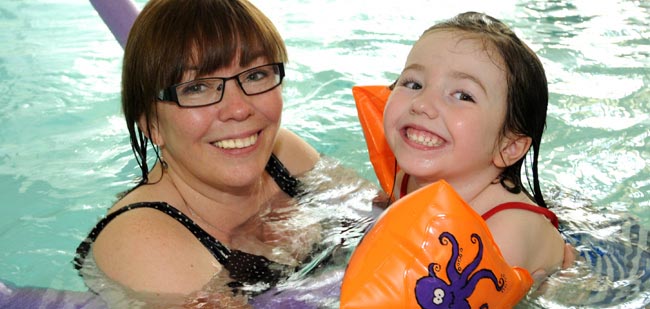 The Pioneering Care Centre in Newton Aycliffe has one of the region's only hydrotherapy pools open to the public.
It offers an ideal way to relieve pain, improve mobility or just relax with the pools massaging jets.
Hydrotherapy pool user Clare Cheverall takes her five-month-old son Hal and says: "We both really enjoy coming to the Pioneering Care Centre to use the pool, it's the perfect temperature for young babies.
"As well as being more confident in water, I think Hal's become more alert and developed better eating and sleeping patterns since we've started coming. Plus it's nice to have the coffee shop facility for baby feeding afterwards."
A new Parent and Toddler and Aquacise session have been added to the already popular timetable.
Hydrotherapy pool days, times and activities are as follows:
Monday:
1-2pm
3-4pm
5.15 – 6.15pm
6.15-7.15pm
7.30 – 8.30pm (Aquacise)
Tuesday:
9 – 10am (Aquacise)
1-2pm
4.15- 5.15pm
5.15 – 6.15pm
6.30 – 7.30pm
Wednesday:
9 – 10am (Aquacise)
NEW! 10-11am (Parent and Toddler)
NEW! 7.45-8.45pm (Aquacise)
Thursday:
9 – 10am (ladies only)
10 – 11am (ladies only)
2.45 – 3.45pm
3.45 – 4.45pm
7.15 – 8.15pm (Aquacise)
Saturday:  
12.15-1.15pm
1.15-2.15pm
Hydrotherapy pool prices
1 hour session:
Adult: £6.25 (concessionary £4.50)
Ages 0-3: £2.50
Ages 3-16: £4.50
It is ideal for people of all ages and abilities and is safe for non swimmers.  The pool area and changing rooms are also fully accessible to disabled people with overhead and chair poolside hoists available on request.
To book your place at any of the sessions please contact the Pioneering Care Centre, Carers' Way, Newton Aycliffe, DL5 4SF, tel: 01325 321234 [email protected], www.pcp.uk.net.