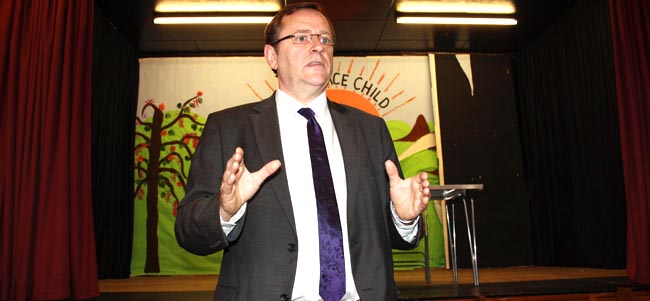 By Martin Walker
Phil Wilson will host a special surgery in Newton Aycliffe on Saturday to help people who stand to be affected by the latest round of welfare cuts.
The Labour MP for Sedgefield is bringing together experts from various fields, including Citizens Advice and housing associations, to offer welfare advice to residents in County Durham.
From April this year, further Coalition cuts will hit working families and even disabled people and foster carers.
Mr Wilson believes the Coalition is hitting the wrong people. He also thinks information isn't being made readily available, and the new measures are set to hit residents "like a steam train".
So he's holding a series of surgeries, with the Aycliffe surgery at Aycliffe Youth Centre, opposite Tesco, from 10am this Saturday (16th February).
Mr Wilson said: "From April, if you live in a house rented from a social landlord, such as Livin or East Durham Homes, claim Housing Benefit and you are of working age, you could see your benefit cut if the Coalition believes the household has too many bedrooms.
"If a couple of working age claiming Housing Benefit lives in a two bedroom house, they will be deemed to have one bedroom too many and their benefit will be cut.
"If they live in a three bedroom house their housing benefit will be cut by a quarter.
"Hundreds of thousands of households will be on average more than £700 a year worse off.
"The new regulations do not take into consideration the need for a temporary carer to use the spare bedroom.
"It also affects the disabled and foster carers those in work as well as those unemployed. People will have to make up the shortfall to cover the rent or move to a smaller property and there is shortage of one bedroom homes.
"What makes it worse is a lot of people don't even know about it. This is going to hit them like a steam train. For many, it's a head-on collision with the Coalition, and we know who's going to lose."
Mr Wilson's welfare surgeries will be held at the following venues:
● Newton Aycliffe Youth Centre, Burn Lane, DL5 4HT (Saturday 16th February, 10am-12noon)
● St Luke Church Hall, Church Lane, Ferryhill, County Durham, DL17 8LT (Monday 18th February, 1.30pm-4pm)
● Trimdon Village Hall, Hallgarth Road, TS21 6JT (Wednesday 20th February, 10am-12noon)
● Wingate Community Centre, 55 Front Street, Wingate, Co Durham TS28 5AQ (Friday 22nd February, 1-4pm)