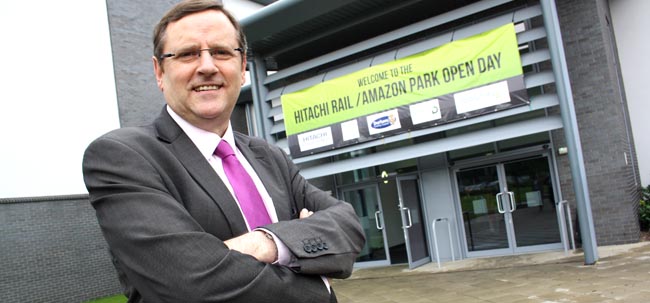 By Martin Walker
Newton Aycliffe MP Phil Wilson has praised a new free facility designed to improve communication between companies on the second-largest industrial estate in the region.
The Labour MP for Sedgefield attended the launch of a new website for Aycliffe Business Park yesterday – and says he plans to bring it up for debate in the House of Commons.
With the help of Business Durham, an arm of Durham County Council, a handful of local companies originally got their heads together last year to launch a committee aimed at improving the appearance of the business park.
A steering group was then set up, consisting of Xcel Centre manager Kerina Clark, Ebac managing director Pamela Petty, Finley Structures managing director John Finley and Aycliffe Fabrications MD Dave Spensley.
Now the main focus of the group is a new website, where every company residing on Aycliffe Business Park can register their details for free as well as posting news and events.
Mr Wilson, who played a big part in helping to bring Hitachi Rail Europe to Aycliffe, said: "Aycliffe Business Park has 8,000 employees, 250 companies, and in the past it has probably punched beneath its weight.
"Hitachi coming here is great news, but Hitachi isn't the only business on this site. It needs to work together as a business community to promote the park, and this initiative is fantastic, and I'll do everything I can to help.
"I can promote it in the House of Commons through Parliamentary debates, I've also suggested they hold a reception in the Commons, if they wanted to do that, because we want to see this on the national stage.
"There's some great companies here, and we've got to make sure they continue to fulfil their potential."
See Mr Wilson's interview in full in our Video Vault