Five hardy runners turned up to Alnwick Cross Country in freezing wet and very muddy conditions.
In the women's 4.2 mile race Sue Milburn and Claire O'Connor (cross country debut) battled round the muddy and hilly course.
Sue came home in 39.27 and 181 position and 3rd V55, followed by Claire in 240 position in 43.17.
The men's 3 lap, 6 mile course was very challenging. Peter Milburn came home in 234th position in 50.18, followed by Gary O'Connor (also making his cross country debut) in 304th position in 53.02 and then Colin Gibson (just back from 6 weeks holiday in New Zealand) in 391st position in 59.37.
Meanwhile, on a bitterly cold Mothering Sunday, dedicated Aycliffe club runners attended the final race in the North Yorkshire and South Durham (NYSD) Cross Country league at South Park, Darlington.
Club runners saw success, with one of their ladies teams achieving 3rd place overall in a time of 39.01 in the Senior Women's race.
The team was made up of Michelle Zamir, Michelle Jane and Michelle Scott. Also joining them in this race was a second team made up of Angela Barratt, Susan Clark and Natalie Duffelwiel. They came in 13th with a time of 51.46.
In the Senior Men's race Aycliffe entered one full team of Ste Smith, Rob Jayne, Alan Wilks and John Heywood. The team placed 18th with a time of 57.07. Trevor Needham and Ray Todd also ran, making up an incomplete team.
As well as racing at this final meet, the series prizes were also presented. The club enjoyed success with Susan Clark and Ray Todd receiving series prizes. Ray took 1st place in the over 75s age category and Susan took 3rd place in the over 65s category.
On Sunday 13th March club runners also turned out for the Wynyard 5k trail race, part of the Tees Trail Winter series.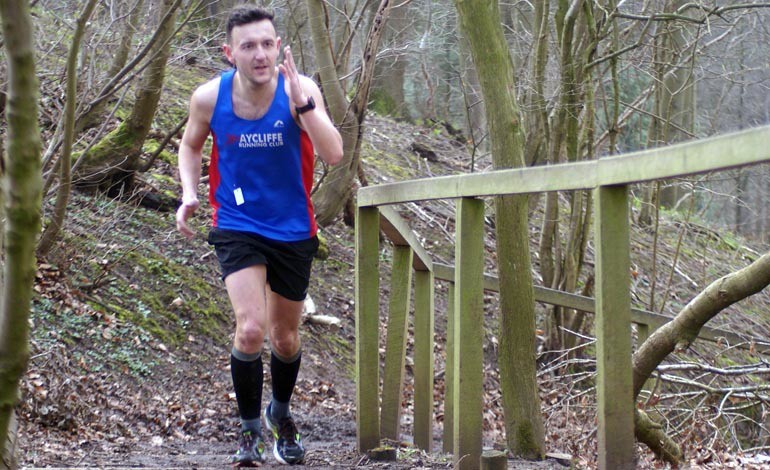 John Surtees (above) was first home for the club and placed 2nd overall in a time of 18:24. He was closely followed by Peter Milburn who came in 9th in a time of 20:43. Michelle Zamir was 1st lady overall in a time of 22:28. Other runners included; Dave Blewitt (22:16), Ste Smith (22:17), Michelle Jane (23:02), Alan Wilks (23:24), Cyd Upton (24:00) and Susan Milburn (24.56).