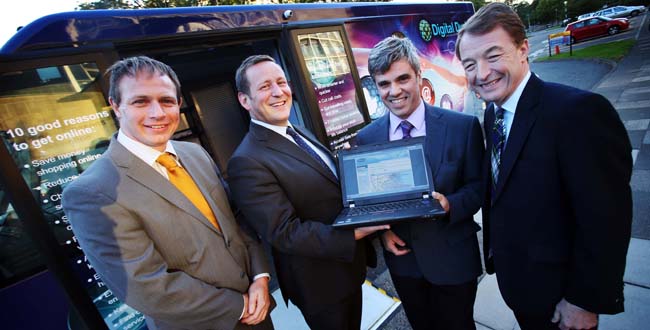 A leading Government minister was told about plans to bring superfast broadband to thousands of homes and businesses across County Durham during a visit to the area.
Ed Vaizey MP met with representatives from Durham County Council's Digital Durham programme during a visit to Durham City.
The Minister for Culture, Communications and Creative Industries was given an insight into the initiative, which will bring broadband to everyone in the county and superfast provision to as many homes and businesses as possible.
Mr Vaizey was invited on board the Digital Durham bus, which visits local communities offering information on how people can benefit from better broadband access.
Durham County Council has received £6.93m through the Government's Broadband Delivery UK (BDUK) programme and has set aside the same in match funding.
Phil Jackman, Durham County Council's head of ICT, said: "The Digital Durham programme is at a very exciting point and it's great to have this opportunity to share our progress so far with Mr Vaizey.
"The benefits of fast speed broadband are enormous, from increasing access to information for domestic customers to improving learning opportunities in our schools and boosting business for smaller and medium-sized enterprises.
"That's why the council is investing £6.9m in this project, which will help meet one of our key priorities of supporting regeneration, economic development and create jobs."
The council has joined forces with Gateshead Council, Sunderland City Council and the five Tees Valley authorities to coordinate the delivery of fast-speed broadband in those areas in partnership with BT.