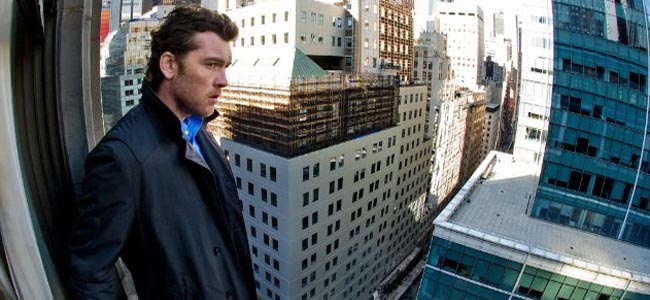 By Brodie Millichap
Man on a Ledge is one of those film titles, just like Snakes on a Plane, it states the obvious. It is a film about a man on a ledge. But, this film goes further than that and reveals a clever plot that captivates you, engulfs you, it will have you held in suspense until the very last minute.
Sam Worthington puts in a great performance as Nick Cassidy, an ex-cop turned con who has a decision to make. He can either go back to prison for 25 years for a crime he didn't commit, or he can carry out the crime he is accused of, that he didn't commit to prove his innocence.
Did you follow that?
It's an imaginative film that also stars Elizabeth Banks as Detective Lydia Mercer, a psychologist who is requested by Cassidy for him to negotiate with, over whether or not he will jump, or so it seems.
The film also sees performances by Jamie Bell who is Nick's brother Joey and Genesis Rodriguez who plays Joey's girlfriend Angie.
The opening sequence showcases some breath-taking views of downtown Manhattan. The enormous skyscrapers that appear to be never ending are the scene for where this plot will gently unravel over the course of an enthralling 102 minutes.
The film gets straight to the matter with Cassidy out onto 'his' ledge within the first 15 minutes, cue for a screaming woman, with exceptionally good  eyesight, to notify the police and already we are in to the heart of the film.
We are then taken back a month where we see Cassidy locked up in prison. He is brought the sad news that his father is dying and through that he is granted a day out of the cells to attend his funeral.
At the funeral he rows with his brother Joey and after some quick thinking he manages to escape the clutches of his two security officers.  A thrilling car chase then follows but Cassidy gets away, despite being hit by a train, and the next time we see him he is back on his ledge staring down at what would be a nasty fall to say the least.
What follows is a clever plot that sees the truth behind Cassidy's imprisonment come out, as well as a growing relationship, of sorts, between himself and Banks. As the plot thickens you are moved closer and closer to the edge of your seat and it will be left to the very last minute for this film to finally reveal itself.
Man on a Ledge is showing at Showcase Cinemas at Teesside Park and Cineworld in Middlesbrough.