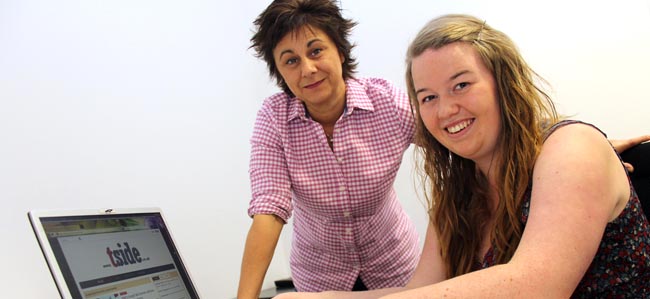 Following an internship with a national fashion magazine, an ambitious young journalist has landed her first job on Aycliffe Business Park.
Multi-talented Sarah Burns has joined Newton Aycliffe-based Au Fait Business and Marketing Services, one the brightest young marketing agencies in the region, boosting its growing team to five at its HUB offices on Welbury Way.
The 21-year-old, from Middlesbrough, already boasts an impressive CV which includes a first class honours degree in Multimedia Journalism.
Sarah previously completed a one-year voluntary role with Middlesbrough Council and spent a week with Boro-based PR firm Dave Allan Communications, before she enjoyed a week-long internship with Fabulous, the Sun on Sunday's pull-out fashion mag, in London in September.
Her eagerness to impress has won her the role of Inbound Marketing Manager with Au Fait, joining Business Administration apprentices, Briany Hodgson and Caitlin Sharkey, who took up their positions with Rachel Townsend Green's fast-growing company last winter.
And it's Sarah's wide-ranging skills base, as well as her enthusiasm, which has won her a full-time role after graduating from Teesside University in the summer.
"Sarah has already shown a real appetite and desire to get her teeth stuck into work," said Rachel, who started the firm just six years ago.
"She has an excellent skills set and made a positive impact through both her attitude towards gaining work experience and her enthusiasm in general, and we're delighted to have her on board as we look to build the business."
Sarah studied at Teesside after doing her A-levels at Prior Pursglove College in Guisborough and has been published in the Evening Gazette, as well as previously looking after social media for the university's Tside newspaper.
"Joining the team at Au Fait is a really exciting opportunity for me and I have already settled in well, I love my role, the work I do and the fantastic culture within the business," said Sarah.
Rachel says Au Fait has already doubled in size in the last year, and Sarah's appointment promises to be the first of many in the coming months.
"We have some very exciting plans to create more new roles very soon," she added.