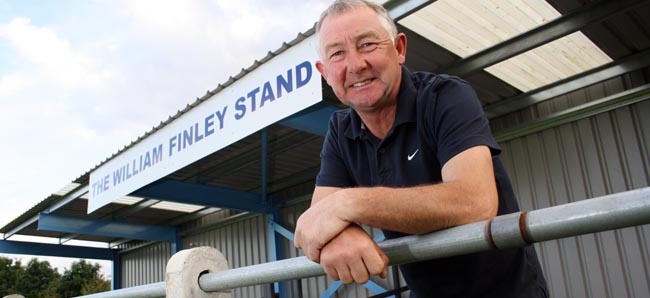 By Martin Walker
On a day when a small group of Newton Aycliffe supporters will trek nine miles to watch their team play, boss Allan Oliver is calling on his players to "stand up and be counted".
Around 15 fans will walk from Moore Lane Park to Brewery Field, the home of Spennymoor Town, on Saturday (1st September) to watch their side take on the three-times champions.
The sponsored walk, dubbed 'Marching On Together', is hoped to raise much-needed funds.
Aycliffe have endured a difficult start to the season so far, with a crushing 5-1 derby defeat at home to Bishop Auckland on Monday dragging them to the bottom of the Ebac Northern League first division.
And Oliver says, after enjoying more ups than downs during their meteoric rise through the leagues in the last four years, it's time for a new test of character.
Aycliffe have had had it pretty much all their own way since promotion to the Northern League three years ago.
But now, with four consecutive defeats rounding off their worst start to a campaign since Oliver and Gary Farley's bandwagon took over five years ago, the club needs to show togetherness – from the players, to the management and supporters.
Oliver said: "It doesn't get any easier, Spennymoor away this weekend, one of the best teams in the country at this level of football and the current champions. We'll have to lift ourselves, galvanise each other and be harder to beat.
"We've enjoyed some good times at Newton Aycliffe – we're where we always wanted to be, in the first division – but now we'll see who'll stand up and be counted.
"There are 42 games left, there's still an awful long way to go. I won't be feeling sorry for myself, and neither will Gary. We'll keep going, and I think eventually we'll get it right."
Having managed Crook Town and West Auckland in the Northern League previously, Oliver knows what's required to get Aycliffe out of their current slump.
He added: "The confidence is on the floor, and the only thing that will lift us is a goal or two and a win, then the self-belief comes flooding back.
"They don't become bad players overnight. The secret in any league is having a settled side, and for various reasons we've been unable to do that.
"Gary and I have been banging our heads against the wall, but we're committed to getting it right, and we will eventually."
● Tickets are still remaining for Aycliffe's evening with Ray Parlour at the Big Club on Friday 14th September, including comedian Gary Skyner and hosted by David Craig from Sky Sports News. Tickets cost just £25 each and can be purchased online at Aycliffe FC's new designated sales-only website, www.nafc-online.co.uk. Alternatively, call Dan Lewis on 07581 784726, Martin Walker on 07826 525907, Barry Waters on 07864 718243, or Paul McGeary on 07703 732342.