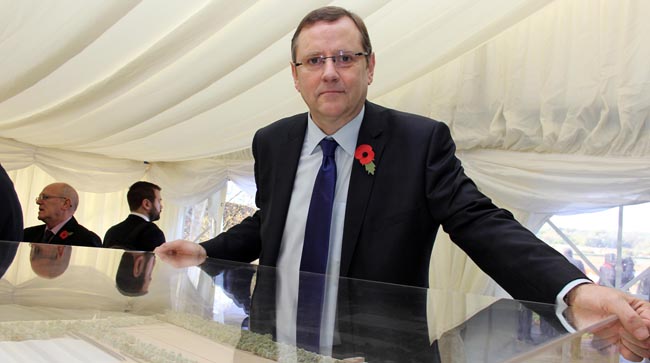 By Martin Walker
Phil Wilson says Friday was a day of celebration in Newton Aycliffe, after the construction of Hitachi Rail Europe's train-building factory was marked with a special ceremony.
Business secretary Vince Cable and Patrick McLoughlin, the Secretary of State for Transport, visited Aycliffe Business Park for the high-profile event, when Darlington firm Shepherd Construction were also unveiled as the lead contractor.
Mr Wilson, the Labour MP for Sedgefield, played a big part in paving the way for Hitachi's successful bid for the £5.8 billion Intercity Express Programme (IEP) after campaigning for the Japanese firm and taking a petition of signatures to Number 10 to strengthen their case.
He told Aycliffe Today: "It's a fantastic day, it's a celebration. It's a celebration of the industrial heritage of the North-East.
CLICK HERE TO SEE OUR VIDEO FEATURES
"But this proves it isn't just about the history, it's also about the future, and when you have a company the size of Hitachi prepared to build an £82m factory here, to manufacture trains and create 720 jobs, it just goes to prove we have a great future and companies like Hitachi have great faith in the area.
"It's just another milestone on the journey. It's been a long journey, we've still got a bit to go, but we know which direction we're going in.
"We know Shepherd will be building the factory, it's going to take 21 months to build it, and after that we can look forward to trains being manufactured."
Mr Wilson says Newtonians should be proud that Hitachi decided to locate here because of the people as well as location.
He added: "One of the reasons Hitachi came here is because people have the skills, there's a lot of suppliers here that they require to manufacture the trains.
"It's a great site, it's going to be a great factory, and I think by the end of this decade, everyone in Newton Aycliffe will know someone who works at Hitachi, just like in Sunderland, where everyone knows someone who works at Nissan.
"In the future when everyone talks about Newton Aycliffe, they'll think of Hitachi, and when they talk about Hitachi, they'll think of Aycliffe. Train building has come home."