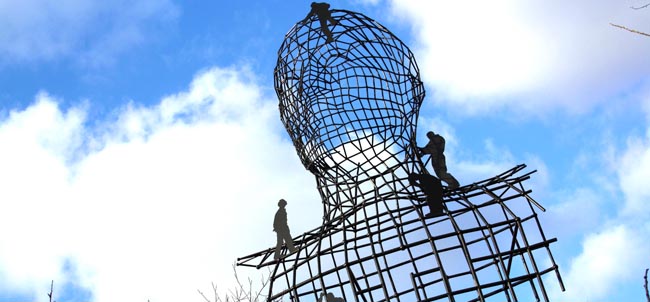 Aycliffe Today editor Martin Walker looks back on an eventful but hugely-important week for Newton Aycliffe…
Some people are never happy.
When you see millions of pounds being invested to improve our town centre, an international company spending £82m to build a landmark train-building factory on our doorstep and exciting plans revealed by Durham County Council to create a vibrant and prosperous economy by creating employment and building more new homes, even the most pessimistic amongst us must find it hard to pick holes out of that.
Because, in the last week or so, that's just what we've seen come to fruition, with the town centre's £2m development coming hot on the heels of last week's box office media conference to celebrate the beginning of Hitachi's state-of-the-art facility.
Our MP, Phil Wilson, said Aycliffe "really is the place to be", and although there's still a lot of potential to be realised, I'd agree with him.
The fact the Government deemed it important enough to send two Secretaries of State to Newton Aycliffe – in Vince Cable and Patrick McLoughlin – underlined the national importance of the Hitachi investment.
If it's a major part of the UK rail revolution – as Cable coined it – then what kind of an impact will it have for Aycliffe?
That remains to be seen. The proof of the pudding is in the eating, as they say. But the scale of what Hitachi means to Aycliffe really can't be underestimated, in my opinion.
Hitachi isn't the be-all-and-end-all, of course. We have lots of vibrant businesses across a range of sectors already on Aycliffe Business Park – Gestamp Tallent will still be the town's biggest employer when Hitachi's factory is open for business in two years, for example.
But as well as the initial 700-plus jobs that Hitachi will create, it's its supply chain which will have the biggest impact, with an estimated 2,000 jobs being supported.
Nissan came to Sunderland in the late 1980s. The company now employs 6,500 people and supports a staggering 40,000 jobs in the supply chain.
If Hitachi has a fraction of the impact Nissan has had for Wearside, the prediction that thousands of more jobs will follow in Aycliffe will surely be realised.
Durham County Council have also recently revealed exciting plans to build at least 2,000 new homes in Aycliffe, to support what's expected to be a boom on the business park and the need for more housing, while there are also plans to expand the business park – it could become bigger than Team Valley.
Our local authority will have a difficult balancing act to play on that front, though. Retailers and fast food outlets will be keen to look at opportunities on the business park, with its prime location off the A1 and with the number of employees standing at 8,500 and ever increasing, but they won't be as keen to move into our town centre, which is what the people of the town want.
It will be interesting to see how that balancing act pans out.
But, fundamentally, the town centre is already attracting interest from household name retailers – we could see some developments with the former Woolworths and Your More Store units very soon – and that's off the back of the town centre's genuine attempts to make improvements.
Roll these three major developments together – even though the County plans are in their early stages – and it really does represent an exciting time for Newton Aycliffe.
Unfortunately, there are always cynics, and Aycliffe has its fair share of them.
"You can't polish a turd" is one of my favourite comments I saw on our Facebook page this week about the town centre. Funny, but harsh. The town centre is almost unrecognisable from what it was two or three years ago, and that's down to millions of pounds of investment and years and years of planning and hard work.
Then, referring to the Durham County plans, "talk is cheap" quipped one Facebooker. Sure, the plans are ambitious, but the County must talk about them first and consult with the public before they decide whether it's a go-er.
In my opinion, I think the authority should be applauded for thinking big. They've spotted a real opportunity in Aycliffe, and even though they're part of a wide-reaching county-wide remit, the plans specific to our town are mouthwatering to say the least.
If realised, we'd have a business and retail park to rival Team Valley – home, of course, to the Metro Centre – and you couldn't get any more ambitious than that.
As I say, some people are never happy. But I'd like to think my glass is always half full. Hopefully, in years to come, we'll all be raising a nice full glass of ale, celebrating a thriving new town centre, a vibrant business park employing more than 10,000 people and an ever-increasing population which will make us one of the biggest small towns in the North East.