The former boss of Newton Aycliffe manufacturing firm Ebac insists she only wanted 'time out' after leaving her post last year.
In her first interview since stepping down as managing director of the firm launched by her father, John Elliott, Petty says she simply wanted to spend more time with her family after 30 years with the company.
But she says she has plans to get back into business later this year.
Petty is currently advising small firms on how to grow their businesses in a non-executive role with the Entrepreneurs' Forum – a 300-strong group of people, founded by Sir Peter Vardy and Lorna Moran in 2002, which supports entrepreneurs based in the North-East.
Speaking at a meeting of the Aycliffe Business Park Community at South West Durham Training on Friday, Petty told Aycliffe Today: "I was 30 years at Ebac, and I loved every minute of it. It's a great place to work and a brilliant business. Of course, it's the family business, so I would say that.
Go to our Video section to see our short film from the Aycliffe Business Park Community meeting
"I just decided it was time to take time out for me, so I'm spending time with the family.
"I plan to re-focus in about six months, but in the meantime I've been doing some mentoring with some businesses as a board member of the Entrepreneurs' Forum, working with smaller businesses.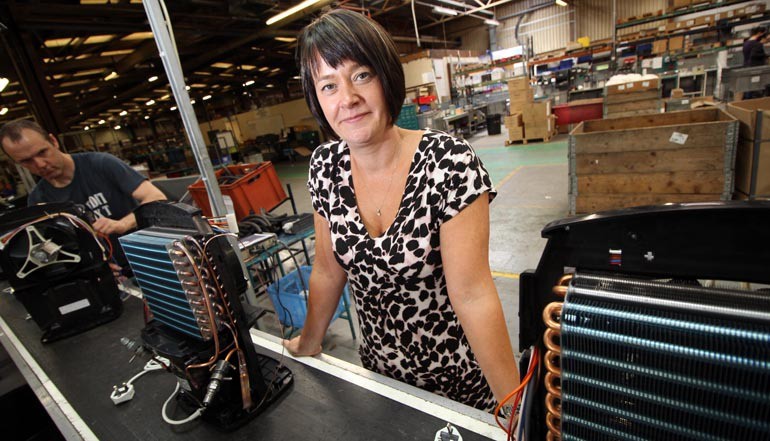 "I think one of the region's big issues is how to get these great small businesses to scale up. If these firms can employ 10 more people, or even one or two more, that makes a massive difference to the North-East economy.
"So with the Entrepreneurs' Forum we're working on that scale-up programme and I'm working with a few businesses now, just being that critical friend and helping them through the next phase where they can take that next jump."
Petty sits on the board of Aycliffe-based South West Durham Training and remains an important member of the Aycliffe Business Park Community's Steering Group, having formed the initiative with Kerina Clark and John Finley three years ago with the help of Business Durham.
She added: "I've been involved from the start. I love the business park, I love the businesses here and I'm really proud to be a part of the steering group.
"To come into a room where there are 40 businesses that voluntarily come in and want to engage with each other is fantastic."
You can find out more about the Aycliffe Business Park Community and future events by clicking here.
To find out more about the Entrepreneurs' Forum, click here.