Aycliffe Today's business magazine is the only publication which is exclusively mailed direct to every firm on Aycliffe Business Park.
Companies now have a chance to market direct to the Aycliffe market in the May-June issue of Aycliffe Today Business, due out early May.
We only have a limited number of slots available as there are only four pages remaining for this 22nd edition, starting from £150.
More than 80 businesses have already used Aycliffe Today Business for their marketing/PR needs over the last few years, and for a variety of reasons.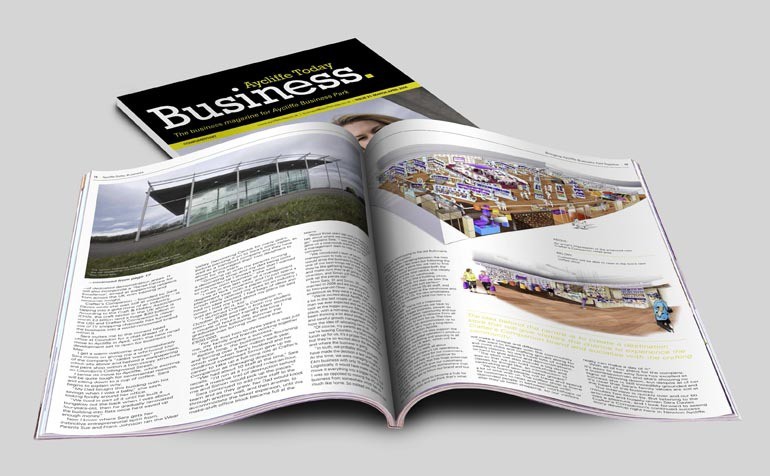 Some use it purely for marketing to promote products or events, others use it just for general awareness and PR, and some use it purely for personnel reasons – to attract and retain good staff.
Click here to see previous issues
We print 2,500 copies of each issue – one copy is mailed exclusively to every business on the park and the rest are hand delivered around the park in receptions/foyers, conference centres, restaurants, hotels etc.
While the magazine is geared towards business, our online platforms also help our clients reach the B2C market prolifically.
All our editorial and advertorial content is published on aycliffetoday.co.uk which averages 15,000 unique visitors a month and 25-45,000 page views a month.
We also push everything through our social media channels – our Facebook page has more than 6,000 people and its weekly reach averages between 20,000 and 40,000. We also have more than 7,000 followers on Twitter.
So across all our platforms combined we offer a truly unrivalled reach for Newton Aycliffe and the local area.
Our trained journalists can write your advertorials and we can take your pictures. Or if it's a traditional advert you're after, our professional graphic designer can do that for you.
This is all part of the package – professional writing, photography and graphic design – which offers a truly unrivalled service in Aycliffe and County Durham.
• Our deadline for the May-June issue is Friday 22nd April – call us today on 01325 728024 to get involved, or email [email protected]