The first Intercity Express Train bound for GWR's Devon and Cornwall route has now arrived in the UK.
From 2018 a new fleet of Class 802 Intercity Express Trains will connect London Paddington to Exeter, Plymouth, Penzance and many more communities.
A five car test train (802 001) built at Hitachi's factory in Japan arrived in Southampton port on Saturday, July 17.
The train was welcomed onto UK soil by GWR (train operator), Hitachi (train manufacturer) and Eversholt Rail (financiers of the Class 802 fleet).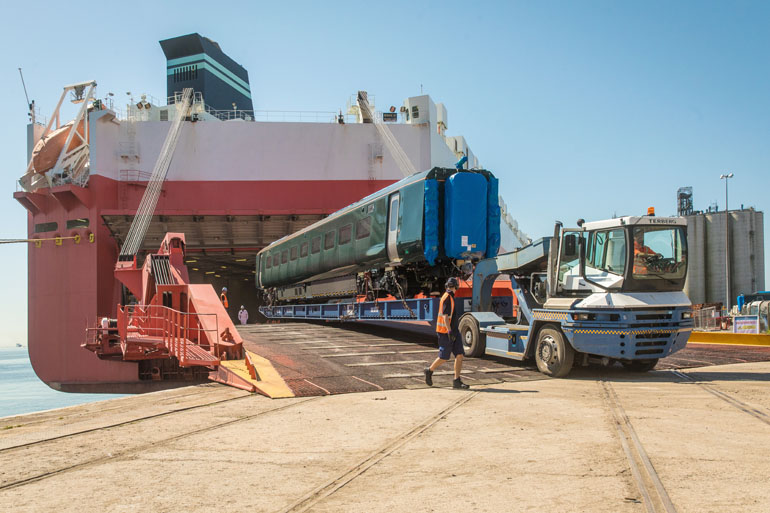 The train will now be made ready to begin testing in the coming weeks prior to entering passenger service from summer next year. Two further test trains are due to arrive in the UK shortly.
The new fleet harnesses Hitachi's pioneering Japanese bullet train technology, known for its quality and reliability. Passengers can expect more seats, better on-board facilities and shorter journey times.
The 36-train fleet is fitted with bi-mode technology, allowing trains to use both diesel and electric power, and passengers to enjoy the benefits of new trains as soon as possible.
The Intercity Express Train is designed to withstand the region's variable weather conditions, including routes along the Dawlish coast.
From this autumn, the first wave of InterCity Express Trains will run on the historic Great Western main line, connecting London to key UK cities including Reading, Bath, Bristol and Cardiff. Production of these trains is already underway in the UK at Newton Aycliffe, County Durham.
From Summer 2018 a second wave of new trains will begin running as far south as Penzance along coastal routes in Devon and Cornwall. The first of these trains arrived in the UK today.
The entire fleet of 93 trains will be in passenger service by the end of 2019.
Hitachi Rail Europe projects director Berry Sas said: "Passengers travelling between London and the South West are today a step closer to experiencing modern trains.
"Our trains are designed to ensure passengers on long journeys have a comfortable experience with more luggage space and a smooth ride.
"We are now excited to begin testing on the region's iconic railway as we continue towards the brand new fleet entering passenger service next year."