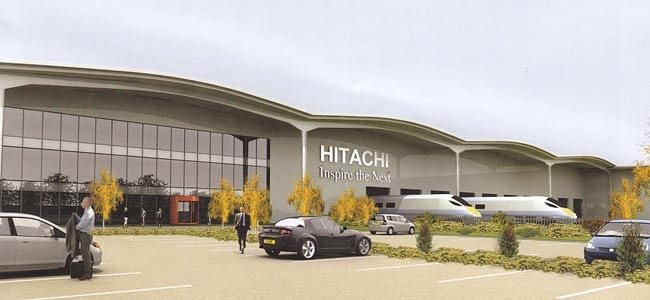 By Martin Walker
Hitachi Rail Europe has secured another multi-million pound contract for its £82m factory on Aycliffe Business Park.
Transport Scotland has announced its intention to award Abellio the new ScotRail franchise.
The Edinburgh Glasgow Improvement Programme (EGIP) will be a crucial part of the new franchise, and Abellio has confirmed that Hitachi Rail Europe is its preferred supplier of new rolling stock for the programme, subject to successful conclusion of negotiations.
Hitachi will begin manufacture of the AT200 trains, run by Abellio, after its factory is completed in Autumn 2015, and the trains are expected to be in operation from 2017.
Andy Barr, Hitachi Rail Europe's Chief Operating Officer, said: "We are delighted that Abellio has selected Hitachi Rail Europe as preferred bidder to supply rolling stock as well as long-term maintenance of our electric trains.
"This is great news, as it is the first contract for our recently launched AT200 commuter train.
"These trains will be built at Hitachi's new Rail Vehicle Manufacturing Facility in Newton Aycliffe, complementing the delivery of the Class 800 and 801 trains for the Intercity Express Programme, boosting jobs and growth in the North-East."
Sedgefield MP Phil Wilson added: "This is excellent news for Hitachi Rail Europe and Newton Aycliffe.
"This order will help to secure the 730 jobs at Hitachi's factory on the industrial estate and promotes Hitachi's new commuter train. I want to see more orders come to Aycliffe. It's great news for the local economy."
Abellio, a well-known name in the UK rail market, was named franchise operator for the ScotRail franchise on 8th October 8.
Hitachi Rail Europe will supply Abellio with 70 electric multiple units (EMUs), which will form 46 three-car trains and 24 four-car trains (234 rail cars).
These will run on the newly electrified Edinburgh-Glasgow line as well as on the Stirling – Alloa – Dunblane lines.
They will be cleared to run throughout the wider network, which is currently being electrified.
A spokesman from Abellio said: "We are delighted at the decision of Transport Scotland to award Abellio the new ScotRail franchise.
"The new fleet proposal was a major feature in our winning bid, and we look forward now to continuing the negotiations with our preferred supplier Hitachi."
Hitachi Rail Europe will build a fleet of AT200 commuter trains. A life-size mock-up of this new development was recently presented to the UK and international rail industry.
It has been designed to transform the regional commuter travel experience.
Like Hitachi's Class 800/801 trains commissioned for the government's Intercity Express Programme (IEP), the AT200 trains will be built at Hitachi Rail's flagship vehicle manufacturing unit in Newton Aycliffe.