Hitachi Rail Europe has won a deal to make 19 new high-speed trains which will improve connectivity from the North-East to the North-West and Scotland.
The new TransPennine Express (TPE) franchise, operated by FirstGroup, has been given the go-ahead by government to complete a new rolling stock contract with Hitachi to supply the trains, made up of 95 state-of-the-art carriages.
Hitachi says the majority of the carriages will be built at its £82m factory in Newton Aycliffe, with the first trains expected to begin operations in late 2019.
Managing director Karen Boswell said: "Hitachi is thrilled to be delivering a fleet of new Inter City trains for TransPennine Express, connecting cities and people with greater speed, comfort and capacity across the Northern Powerhouse region.
"Last September, Hitachi brought rail manufacturing back to its birthplace in the North-East of England and so it is entirely fitting that our facility at Newton Aycliffe is where these new AT300 trains will be built.
"Building on our contracts to deliver new IEP trains for the East Coast and Great Western Main Lines, commuter trains for Scotland, Inter City trains from London to Devon and Cornwall, as well as our existing HS1 'Javelin' services operating from London and Kent, Hitachi is on track to transform rail travel for millions of fare-paying customers throughout the UK."
The contract for the fleet of AT300 'Inter City' trains is the first to be finalised by TransPennine Express, which will operate the franchise from April.
The deal, which has been financed by Angel Trains, will lead to the procurement of 19 five-car Hitachi AT300 bi-mode trains, capable of operating on both electric power and diesel power.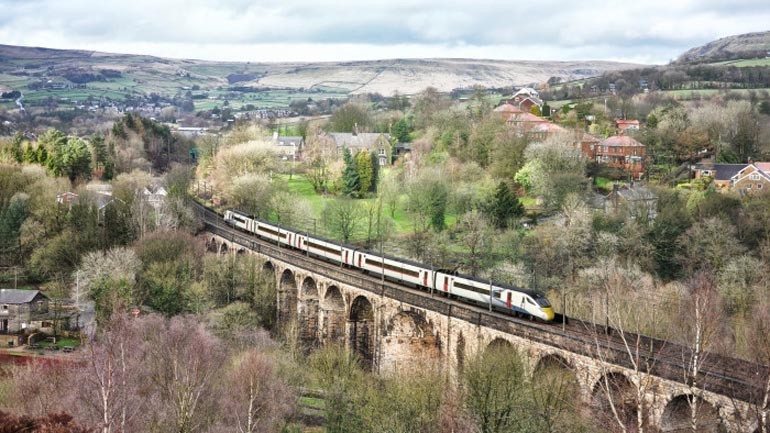 The AT300 trains will be amongst the most advanced intercity trains in the UK, running at speeds of 125 miles per hour.
The modern interior and spacious seating will offer significant improvements in comfort, while free, fast and unlimited Wi-Fi will provide extra entertainment options on every train and allow customers to stream movies and TV on mobile devices. On board catering facilities will allow for hot and cold food options.
Each of the new trains will provide an extra 161 seats compared to the average class 185 train and will offer excellent reliability and efficiency as well as advanced customer information systems.
TransPennine Express managing director Leo Goodwin said: "The signing of this contract is the first major step for the new franchise.
"These brand new Hitachi trains will lead to significant improvements in seating, capacity and provide a more reliable and efficient service.
"They will be able to run at speeds of 125 miles per hour but they also have the capability of running at 140 miles per hour if the network allows for it in the future.
"These speeds will reduce journey times across our network, bringing our great towns and cities in the North closer together.
"The overall comfort and experience will also be enhanced with more entertainment options, free Wi-Fi, better catering and real-time information systems.
"Hitachi is a reliable train manufacturer with a great reputation. We are very pleased to be working with the Hitachi to build these intercity trains which will help to better connect the North and Scotland."
The new TPE franchise will deliver a total of 44 new trains. A deal for the procurement of the remaining 25 new trains is expected to be finalised soon. The first of these trains will be delivered in Spring 2018.
TransPennine Express will lease the carriages from Angel Trains which financed and will own the new trains.
The fleet of AT300 trains for the North will be closely related to the Class 800 bi-mode trains designed for the Department for Transport's InterCity Express Programme (IEP), but will utilise higher engine operating power to cope with the gradients in the region.
They will run as electric trains on the electrified network, and are equipped with bigger fuel tanks and brake resistors to cope with the challenging terrain.
TPE will also retain around half of its current Class 185 trains with them all undergoing a £20m-plus refurbishment programme.
Transport Minister Andrew Jones said: "This investment by FirstGroup will deliver more capacity and modern, high quality trains for passengers on the TransPennine Express Franchise.
"This will also help support jobs and the economy of the North, as the majority of the vehicles will be assembled at the facility in Newton Aycliffe in County Durham.
"It is deals like this, supporting this Government's record investment in transport in the North, that are helping to build a Northern Powerhouse."