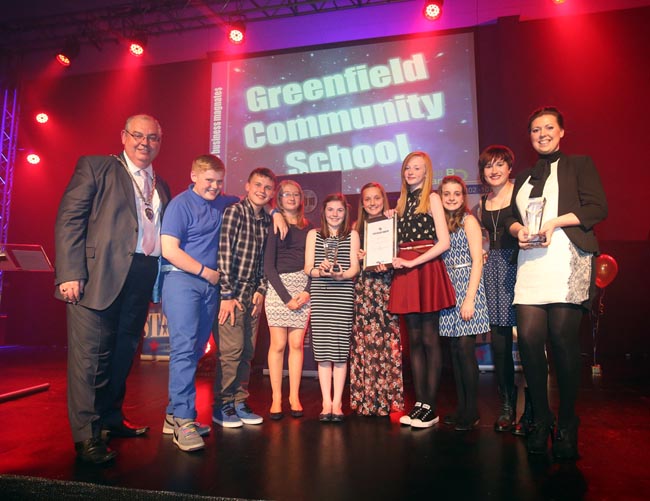 Greenfield School has scooped the main award in a County-wide business competition.
The Newton Aycliffe school was crowned winners of Durham Counil's Business Magnates competition, held at the Xcel Centre.
With this year's theme of 'Made in Durham – Sold to the World', the 23 schools taking part excelled at creating local products with a global market, coming up with everything from hats knitted from the wool of local rare-breed sheep to clothes featuring wearable printable electronic screens.
The competition, now in its eighth year, aims to introduce schools around the county to the world of business with each competing team paired up with local companies who generously give up their time to support and mentor the pupils and their projects.
The school teams also complete six business related challenges throughout the eight month scheme.
Organised by Business Durham, Durham County Council's business gateway, the competition is supported by the County Durham Economic Partnership and Europe Direct and sponsored by local business.
Cheered on by their business partner, Temp Team, Greenfield School was crowned overall winners for their Paper Shaper business idea to make cardboard furniture for children.
As well as the all-important Future Business Magnates trophy, presented to the school by Vice Chairman of the council, Cllr. John Robinson (pictured above), the team earned a £2000 prize for their school and each team member also took home a £50 voucher.
Greenfield was commended by the judges for "an excellent all round performance" which featured high quality work throughout the competition as well as a great product idea with huge potential.
Stewart Watkins, managing director of Business Durham, said: "What makes the Future Business Magnates competition so special is the significant time and effort that local businesses are willing to put in to mentor and advise the young people.
"The competition is a great way of teaching business skills to young people from an early age, not just in the classroom but how it works practically in the real world.
"We would like to thank all of the companies that supported the competition and helped make it a great success."