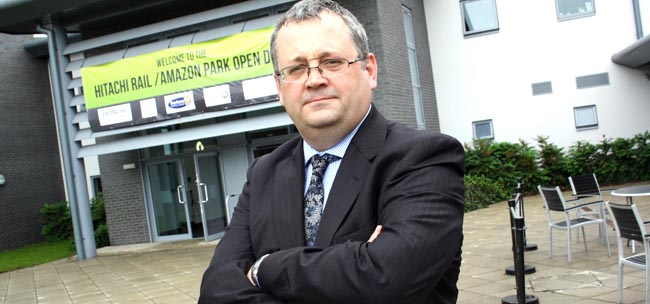 By Martin Walker
The man responsible for Hitachi's new plant at Newton Aycliffe says local firms will be given every opportunity to bid for construction work.
Hitachi Rail Europe's progress to build an £82m train-building facility on Aycliffe Business Park took one huge step forward this week when a complex deal was finally signed with Newcastle-based landowners Merchant Place Developments (MPD) to build and fit out the plant.
TRAIN-BUILDING FACILITY IS 'ON TIME' – HITACHI
MPD will now look to appoint a main contractor, with around 10 firms – a mix of local and national companies – already shortlisted, while a series of interviews were also being held this week at Hitachi's temporary home, within the Xcel Centre.
Value for money were the key words being used during a construction open day last summer.
But the Japanese manufacturer has reaffirmed its commitment to employ as many North-East workers as possible.
As well as being able to deliver the 43,000sq m plant on time and to strict quality and safety criteria, the winning contractor must prove that it is committed to recruiting apprentices.
Darren Cumner, site manager for the Aycliffe plant, told Aycliffe Today: "The signing of the contract with MPD is a major development because it means we're financially committed now.
"The big announcement last year was the signing of the contract with the government, we've then had to work very hard on a very complex deal with MPD.
"Now that's done, MPD will look to appoint a main contractor, and the winner will be the strongest bidder.
"I understand the companies in the mix range from local firms to national companies, but I'm sure the winning bidder will look to use local, North-East sub-contractors.
"Looking at the bigger picture, there will also be lots of opportunities for local firms to pick up work further down the food chain."
The preferred bidder will be announced this summer before 21 months of building work begins in November. The plant is scheduled to open at the start of 2016.
Hitachi has committed £82m to build its first European train factory in County Durham, and the Government has chipped in with a £4m grant.
About 200 construction workers will be required to build the factory and 730 staff will be employed at the Amazon Park plant to assemble the Super Express Trains for the Great Western Main Line and the East Coast Main Line.
Meanwhile, Darren is fully relocating from his Bristol home to County Durham next month, with his wife, Joanne, and their two-year-old daughter, and is looking forward to life in the North-East.
"The difficulty will be choosing which football team to support," said the Bristol Rovers fan.
"I know all about the rivalry in this area – perhaps I'd be better off remaining neutral!"
TRAIN-BUILDING FACILITY IS 'ON TIME' – HITACHI