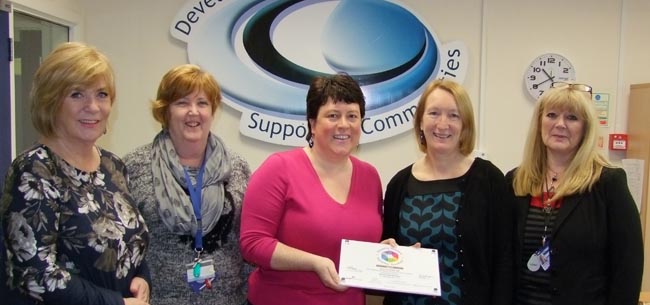 DISC are pleased to have been awarded the 'Equality Standard Gold' by Equality North East, a leading national equality and diversity organisation.
The Gold Award is a practical tool for organisations to identify and promote themselves as an employer and supplier of choice.
Since developing the 'Equality Standard' and 'Equality Standard Gold Award', Equality North East has worked with regional and national organisations in particular the Government Equalities Office (GEO) to identify the key aspects which should be considered when organisations develop standards.
Liz Reay, Chief Executive of Equality North East, said: "I would like to congratulate DISC who has shown themselves as an organisation that does truly embed equality and the Equality Standard Gold Award is the outward evidence of that.
"They really value diversity which is evident in their workforce and service users.
"Those employers who recognise the importance of embedding equality are reaping the business benefits.
"Good equality practice ensures businesses attract and retain the best people and provide a fair and accessible service to customers.
"In the current economic climate it is even more important that we maintain fair employment practices, those employers who do that are finding it makes good business sense.
"DISC mirrors this in their partnership work and evidence of consulting with and responding to local needs."
Valuing diversity means being aware of, sensitive to, and appreciating differences of: age, gender, race, culture, physical abilities, sexual orientation and lifestyles. DISC as an organisation value diversity in the workplace.
DISC was also very happy that earlier in 2012 DISC's Gypsy Roma Traveller worker Leanne Wilkinson was recognised for her outstanding contribution to both the work she does for DISC and her volunteer work with the homeless at the North East Equality Awards.
Leanne won the 'Individuals who have made a difference' award and was pleased to receive the award at the annual North East Equality Awards dinner at the Marriot Hotel, Gosforth.
As well as her dedication to her work at DISC over the last eight years, in her spare time, in the evenings and at weekends Leanne selflessly provides a food and drink service for street homeless people in Middlesborough.
Inspired by her late father and mother who started soup runs 21 years ago, she has been involved since her teenage years and is a well known, welcome face within the homeless community.
Leanne is an inspiration to her fellow team members and deserves to be recognised for the difference she makes to people's lives every day.
The North East Equality Awards recognise and reward those employers, learning providers and individuals who strive to ensure that good equality and diversity practices are implemented in the work place thereby improving recruitment and retention for people from diverse groups.
To find out more about the Equality Standard and The Equality Standard Gold Award please contact the Equality North East Office on 0191 426 4399 or [email protected]