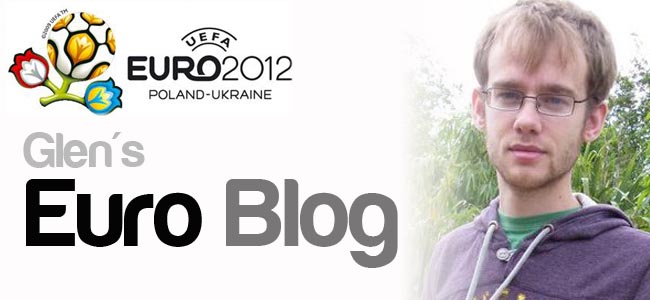 Aycliffe Today Sports Editor and Newton Aycliffe FC reporter Glen Robertson continues his daily Euro 2012 blog…
DAY TWELVE REVIEW
England 1-0 Ukraine
Sweden 2-0 France
England are through to the quarter-finals, and they have avoided Spain. Great, right?  Well, we'll see.
It was a professional job by England, but it could have been so different. There was a huge slice of luck with Wayne Rooney's winner. Steven Gerrard's cross was deflected three times before it found the Manchester United striker at the far post.
Then there was Ukraine's 'equaliser'. Marko Devic's effort went over the line before the ageing John Terry could get back to clear away, but the referee and his assistants failed to award a goal.
The luckiest man was Terry. If the goal was given, he'd have been criticised for losing his man and being too slow to get back to clear. Instead, he's a lionhearted-hero once more
But, at the end of the day, England are through, something many didn't expect beforehand, and top the group after Sweden's deserved victory over France (Zlatan Ibrahimovic's superb strike will take some beating as the goal of the tournament). England will now face Italy, instead of Spain, in the quarter-finals.
Call me crazy, but England could've beaten Spain. The Spanish side have showed time and time again that they struggle against English opposition. Chelsea dumped Barcelona out of Europe and England beat Spain in a friendly this season.
If they had beaten Spain, they'd have gone on to play Portugal or Czech Republic in the semi-finals, a very winnable game. Instead, it's Italy and then, probably Germany. Much more difficult.
It also means England play on Sunday night instead of Saturday. I'm sure the nation's employer's will be delighted with all the 'sickies' pulled on Monday morning.
There are no games on today, as we reach the first tournament 'rest day'. So how are we meant to spend our evening?
Well, there's always organising a kick-about and try to replicate Ibrahimovic's superb scissor kick (I take no responsibility for any injuries suffered), sticking in Fifa 12 and playing through England versus Italy over and over again or getting the Subbuteo out of the loft and helping your miniature James Milner learn how to play international football, taking him one step ahead of the real-life version.