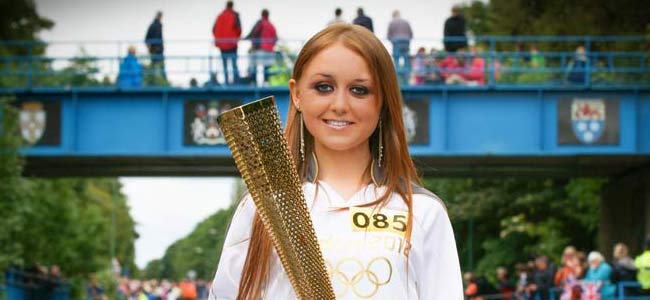 By Glen Robertson
One of the torchbearers through Newton Aycliffe admits to being "taken aback" with the support she received at this weekend's Olympic torch relay through the region.
Sophie Hughes (pictured above), from Bishop Auckland, picked up the flame just after the Blue Bridge on Sunday in front of her family, friends, her running club and thousands of Newtonians.
And the 21-year-old admits to feeling overwhelmed at the reception she received on the day.
"It was fantastic," she told Aycliffe Today. "It was a really amazing experience.
"I was taken aback with the reception I received in Newton Aycliffe. I was quite nervous at the start of the day but the enthusiasm of the crowd and seeing my family, friends and the running club there to support me was amazing and helped me feel much calmer.
"I was overwhelmed at the support. I couldn't believe how many people actually came to see the torch. I just wish it could've lasted longer. It went too fast!"
She was nominated to be a torchbearer by her proud dad, Richard, for all the charity work she does. When she was informed she was on a shortlist she admitted to being surprised, but never expected to be selected as one of the 8,000 carriers.
She said: "I got an email from Samsung saying I had been nominated, and that was the first I knew about it. But I still didn't expect to be picked and was overwhelmed when I was.
"I was really honoured to be selected."
The keen runner, who studies Conservation and Restoration at Lincoln University, also revealed she had been inspired by her fellow torchbearers after spending all day Sunday with them.
"I met so many inspirational people," she said. "It was great meeting them and hearing their stories during the day.
"We were all very supportive of each other, clapping and cheering each other as we got back on the bus after our turn with the torch. It was a special day."
Miss Hughes was born in Newton Aycliffe and lived in Ainsty Hunt for a couple years. She now lives just down the road in Bishop Auckland, where she is a member of the Evenwood Road Runners.
"They have been really supportive of me," she said when asked about the running club. "Without their support I wouldn't have been running all these years. I was really grateful that they came to support me on Sunday."
She has been a member of the club for eight years and runs twice every week with them and a further once by herself. She enters the Great North Run every year, raising money for a different charity each time.
The first four years saw her raise money for Cafod, the Rainbow Trust, Guide Dogs for the Blind and Alzheimer's Society. This year she will raise money for Children with Cancer.
Her personal best is 1hr 24 minutes. She has shaved 22 minutes off her time since her first outing in the event. To help raise money for her running in the past, she has sold cakes at the Hamsterley Hoppings, a tradition she will carry on this year.
"I'm planning on making cakes again this year," she said. "I enjoy making them and they've been really popular in the last few years so I'll be doing it again. They help me a lot with my fundraising."
To sponsor Sophie in the Great North Fun, visit: http://uk.virginmoneygiving.com/fundraiser-web/fundraiser/showFundraiserProfilePage.action?userUrl=sophie12

RELATED NEWS:
In Pictures: The Olympic Torch In Aycliffe
Crowds Flock To See Olympic Torch
"One Of The Best Days Of My Life"