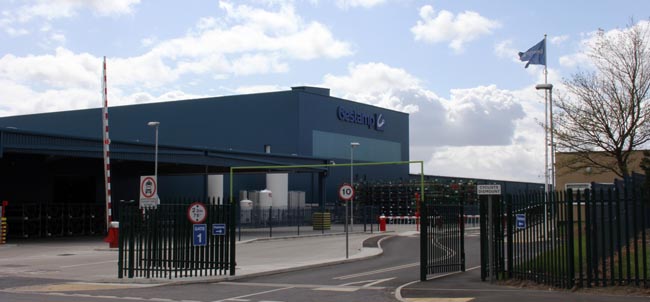 Car parts manufacturer Gestamp Tallent has installed a new £15m assembly line as it continues to make significant in-roads in the global automotive market.
The Newton Aycliffe-based company designs and makes chassis and structural products for motor giants including Nissan, Volvo, Ford, Jaguar, Honda and VW.
The firm, which is celebrating its 65th anniversary this year, has grown its annual turnover from around a £10m in the 1990s to £200m today.
It currently employs 1,300 staff at its Newton Aycliffe factory and is looking to create 150 jobs on the back of its latest investment.
David Land, UK engineering director at Gestamp Tallent, said: "As we've grown our customer base has increased and we needed to extend the building substantially.
"We spent £8m and the factory opened in September last year. We're seeing new contracts come in from Land Rover and Volvo and the popularity of the Nissan Qashqai just down the road is paying dividends.
"All of our assembly lines have to be dedicated to a particular car model and the latest line is for the new Ford Mondeo.
"The lines have to be renewed every six years as car models develop and change, so there is a constant stream of investment.
"We operate in a predominantly European market and our competitors are all from the continent. We're very customer focussed and we try to understand what the customer wants. We understand our competition and the need to be competitive."
The firm, which has UK sites in Staffordshire, Washington, South Wales, Southampton and Luton, used a Regional Growth Fund (RGF) award of £3.75m to help pay for the new robot welding assembly line.
Speaking during a visit to the Newton Aycliffe factory yesterday, business secretary Vince Cable said: "The North East is one of the leading beneficiaries of RGF support, over £340m from the fund is helping more than 100 projects in the region from rounds one, two and three.
"We're trying to help those parts of the country that are struggling after losing a large portion of their public sector employment.
"This region's advantage is that it is a manufacturing heartland and if we help boost manufacturing up here, we can help rebalance the UK economy.
"We have overdependence on banking in the South East and we need to address this by encouraging export growth in emerging markets.
"I believe technical colleges are key to the training and success of our younger generation. My father was a technical college teacher so I appreciate the importance of this education."
Gestamp takes on between 16 and 18 apprentices every year across its six UK sites.
It currently has a £2m bid lodged with the government-run Employer Ownership of Skills Pilot so that the firm can upgrade its current workforce.
"We want our staff to carry on working here and be up to speed when new technology arrives on the factory floor," said Land. "We're constantly taking on more and more young apprentices, but for us, it's not just about replacing what we've got.
"We already have a highly skilled workforce here in Newton Aycliffe and beyond and we want to build on that.
"It's inevitable that we will lose some of our employees to Hitachi when it builds its next generation high-speed trains next door, so it's paramount that we have the training in place to constantly attract new employees," he added.