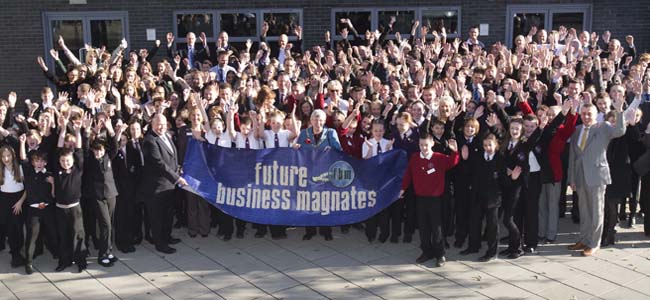 The future business leaders of County Durham were in eager attendance recently as the ninth Future Business Magnates competition was launched.
Teams of 12 and 13-year-olds from 24 schools across the county attended the event at the Xcel Centre in Newton Aycliffe to find out which local businesses they'd be teaming up with to design their own product as well as completing six themed challenges.
The competition, organised by Business Durham, Durham County Council's business gateway, runs for the next eight months with the teams all hoping to win the first prize of £2,000 for their school.
It was won by Aycliffe school Greenfield last year.
As well as meeting their new business partners, who all generously give up their time to help and support the teams throughout the competition, the pupils were also given words of encouragement from Cllr Pauline Charlton, chairman of Durham County Council.
Cllr Charlton said: "I was delighted to see the excitement and enthusiasm from the pupils at the launch for this year's Future Business Magnate's competition.
"This is probably the most important competition for young people in County Durham as it creates the future leaders, managers and employees of the businesses that our economy thrives on."
This year, teams from over two thirds of the county's secondary schools are competing and the launch saw them meet the Greenfield Community School team which took home the prize last year as well as discuss this year's theme: "tomorrows technology solving today's problems".
Cllr Neil Foster, cabinet member for economic regeneration said: "The competition is an excellent way of giving our young people an insight into the working world as well as equipping them with the skills to succeed in it.
"Judging by the amazing efforts we've seen from teams over the last eight years, the competition continues to mean that the future of business and enterprise in County Durham is in very safe hands."
Sarah Slaven, business development director at Business Durham, added: "What makes the competition special is the significant time and effort that successful local businesses dedicate to share their knowledge with the next generation."
The competition is funded by Durham County Council, County Durham Economic Partnership and Europe Direct and generously supported by Thorn Lighting, Bishop Auckland College, East Durham College, Durham University and the CORE Centre at South West Durham Training.