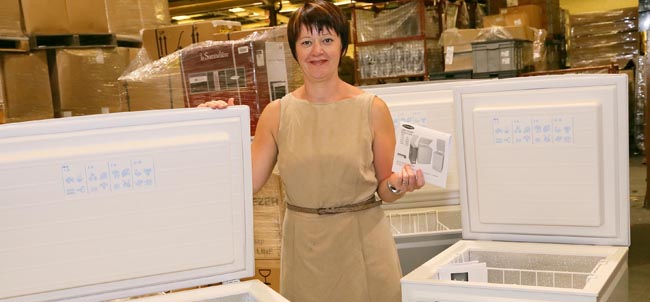 Ebac has announced plans to create 100 new jobs after agreeing a deal to produce freezers at its Newton Aycliffe factory.
The firm, which has pledged to double its current workforce of 200 to 400 when it brings washing machine manufacturing back to the region, has agreed a deal which will preserve the brands and products of UK manufacturer Icetech Freezers.
Ebac has agreed a multi-million pound acquisition and investment deal after Icetech fell victim to the collapse of Comet.
The deal is for an undisclosed seven-figure sum and will involve a further investment at Ebac's factory on Aycliffe Business Park, with manufacturing of the freezers expected to start later this year.
The move will see production of the firm's Norfrost domestic chest freezer range moved to Ebac's Aycliffe base, with up to 100 jobs expected to be created in the long-term.
The Norfrost name and the company's equipment, designs and copyright agreements have been acquired after production closed at the firm's factory in Castletown, Caithness, Scotland, at the end of 2012.
Production is expected to begin by the end of 2013, with the aim of building up to match the previous output of 80,000 Norfrost chest freezers a year.
The existing Norfrost range includes freezers from 57-litre to 204-litre capacity for the domestic market.
Ebac was founded 40 years ago by refrigeration engineer John Elliott, who built the business around that expertise.
In 2012, Ebac was placed into the ownership of a foundation, one of the key principles of which is to see money reinvested in manufacturing in County Durham.
Production of the freezers will run alongside the manufacture of Ebac's watercooler and dehumidifier ranges.
As well as upholding that principle, the acquisition is part of the Ebac management's pledge to invest in domestic appliance manufacture, with the company also in the process of developing production of washing machines.
MD Pamela Petty said: "Preserving the manufacture of the Norfrost products range is a natural move for Ebac.
"We have 40 years' experience in refrigeration engineering and a passion for making things.
"It is always sad to see a British brand in difficulties, so when the collapse of Comet proved the breaking point for Icetech and the Norfrost brand it was a huge shame.
"When we were approached by the interim liquidators to see if we were interested, it quickly became clear that there was an opportunity to keep Norfrost alive.
"There is a big job to be done in relocating the factory equipment from Castletown, which is as far North as you can get on the British mainland, but once we are up and running, we will be in a position to start filling the gap in supply of a popular British product."