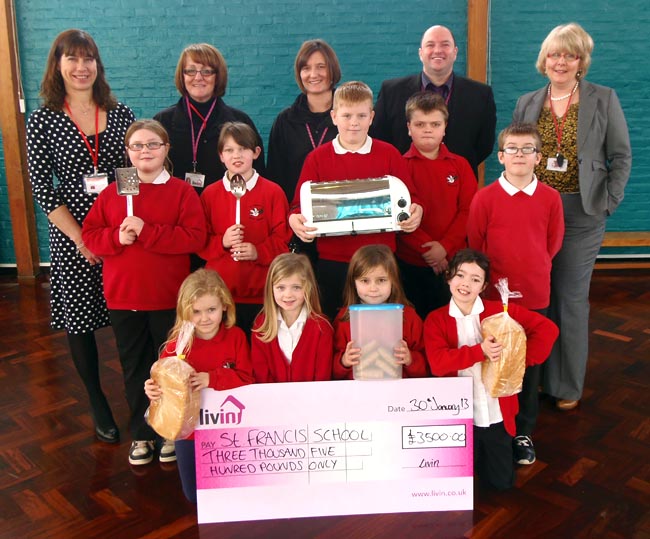 Homes and communities organisation, livin, is funding a new project in partnership with national bakery Greggs to provide free breakfasts to school children in Newton Aycliffe.
A free breakfast club will run every morning for pupils at St Francis' Junior School offering a healthy start to the day by providing free, nutritious breakfasts.
The project which will run for two years has been funded by a £3,500 donation from the livin community fund.
Alan Boddy, executive director people and communities for livin, said: "We have invested a lot of time getting to know our communities and carrying out research. This has allowed us to develop a set of community plans which identify the areas that need our help most which is one of the reasons why we are piloting this scheme at St Francis.
"The Breakfast Club gives children the best possible start to the day and research has shown they can help to improve attendance and attainment amongst pupils."
As part of the funding from livin, Greggs has supplied the school with toasters, freezers and equipment to store and make the breakfasts at the school and free bread which is supplied from the local Greggs store on Beveridge Way, Newton Aycliffe.
Mrs Wilkinson, head teacher at St Francis' Junior School said: "We have really noticed improvements in the children's alertness and ability to concentrate during morning lessons since the introduction of the breakfast club. Children are now always keen to get totally immersed in their learning and we are also very keen on the club as it supports our strong "family" ethos, with children interacting socially in a calm, relaxed environment.
"The club has provided the school, parents and children with an invaluable resource-long may the club continue!"
Lynne Hindmarch, Foundation Administrator for the Greggs Foundation, said: "The Greggs Breakfast Clubs which were established in 1999 provide a great start to the day to over 10,000 pupils in 220 schools nationally and, by working in partnership with other companies, we hope this number will increase significantly over the next few years."
Pictured above: Jackie Crombie, Greggs Foundation Manager, Julie Kent, Community Coordinator, Lyndsey Hutchinson Lead Communities Coordinator, Malcolm Gray Improving Communities Coordinator livin and Mrs Wilkinson, head teacher at St Francis' Junior School.