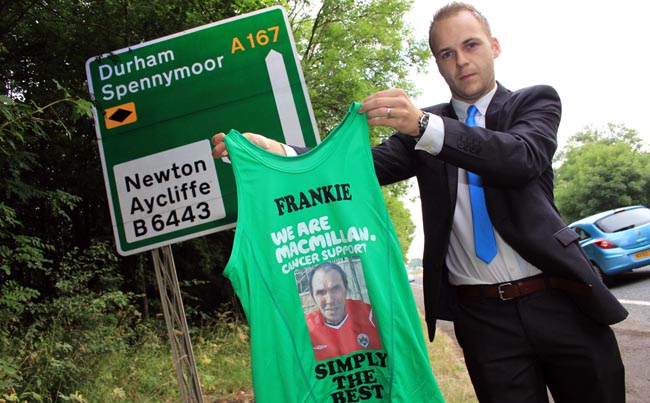 By Martin Walker
A semi-professional footballer faces the biggest challenge of his life when he plans to run a marathon in memory of a friend this weekend.
Sean Tarling is bidding to jog 25.5 miles – just short of the official marathon distance – in memory of local football legend Frank Swinburne.
The 28-year-old, who's never before ran long distance routes and has trained for just five weeks, will set off from Northallerton Town FC's RGPS Stadium at about 10.30am on Saturday.
Complete with his specially-made "Simply The Best" vest, former Aycliffe captain Sean will jog North-bound up the A167 through Darlington and Aycliffe Village before making his way to Newton Aycliffe FC's Moore Lane Park ground.
The route will replicate in reverse a famous walk completed by Frank Swinburne four years ago when, aged 69, he helped to raise £1,250 for his beloved Northern League club, Aycliffe.
Last week, 16 fans walked and cycled the route from Northallerton to Aycliffe before the two sides took part in the inaugural Frank Swinburne Memorial Trophy, with Frank's family making the post-match presentations.
Sean, who now plays for Bishop Auckland and was unable to take part in the fundraising efforts due to commitments with his new club, is making his own gesture by completing the gruelling challenge alone.
The midfielder, who works as general manager for Shildon-based metal facade solutions company PSP Architectural Ltd, was one of the pallbearers for Frank at his service at St Clare's Church in April, after he passed away on March 24 following a short battle with cancer.
During the touching service, which was attended by hundreds of people including the Middlesbrough goalkeeper Jason Steele, Frank's favourite song, Tina Turner's "Simply The Best", was played.
Sean said: "It's all in the name of a very special man and the efforts that everyone has gone to recently shows how much people thought of him.
"Frank's a big miss, we all love him, but events like this will enable his name to live on. He did so much for us and this is the least we can do."
Sean is hoping to raise well over £1,000 from his solo effort, which will top up an estimated £2,500 raised by the football club last week, with the proceeds being split between Aycliffe FC and Macmillan Nurses, at the request of the Swinburne family.
He's received generous donations from a number of local and nationwide companies, while his friend Michael Clegg has paid £50 to sponsor Sean's running vest.
Peter Allison, who completed the walk with Frank four years ago, last week sprinkled parts of Frank's ashes along the route, and Sean added: "That makes it all the more emotional – it also means Frankie will be with me every step of the way, kicking my backside.
"I've never tried anything like this before, I think the longest I've ran is about five or six miles, so it will be without doubt the biggest challenge of my life."
Donations to Sean's fundraising effort can be made via PayPal to [email protected], or direct to Newton Aycliffe FC.